D.C. Mayoral Candidates Make Cases at Returning Citizens' Forum
James Wright | 2/23/2014, 2:48 p.m. | Updated on 2/26/2014, 3 p.m.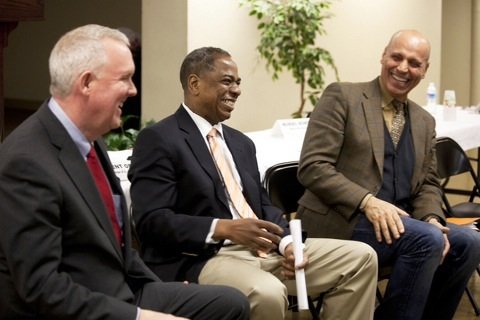 "What I want for District residents are good paying jobs, affordable housing and health care and a good education from preschool to the University of the District of Columbia," he told the audience.
Shallal, 58, discussed the problem of race and poverty in the city, saying that black children are falling further behind whites in education. He chastised city leaders for not using the city's recent surplus properly.
"We have a $1.8 billion surplus in this city but we put it in a rainy day fund," he said. "You can't tell me that it is not raining on some people in this city. Our city leaders are rich in resources but poor in vision."
Shallal pointed out that there aren't any charters schools in Ward 3 and the inequality in education, as well as job opportunities is wrong.
"We want a city that is for everyone," he said. "That is why you need an outsider to come and change things for the better."
Ward 7 political activist Kemry Hughes, who spoke on behalf of Lewis, encouraged the audience to give his candidate a fair shake.
"She's one dynamic sister," said Hughes, 51.
Questions from the audience ran the gamut and one female resident asked for a job.
"We're hiring at Busboys and Poets," Shallal said to rousing applause.
Kevin Mayfield, who served a prison sentence from 1987-2007 for a murder charge and is now considered a success story, said that he's impressed with Shallal.
"I agree with him that we need to change a lot of things in this city," said Mayfield, 51. "Wells and Orange did not address anything that returning citizens have to deal with."
Mayfield said that he recognizes that returning citizens need political education.
"There are some of us who don't know that we can vote," he said.
"Many of us think that just because we've been locked up and served our time, we cannot be politically involved and that is just not true. Returning citizens need programs and we have to advocate for those [programs]."
When asked about the candidates who did not attend the forum, Mayfield shrugged his shoulders.
"I hope they had a good reason for not being here," he said. "They missed a lot and they should have heard what people had to say."