The Links to Donate $1M to Smithsonian African-American Museum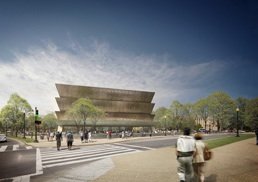 The Links Foundation Inc., an international nonprofit, has agreed to give the Smithsonian's National Museum of African American History and Culture a $1 million gift.
The foundation serves as the philanthropic extension of The Links, an largely black female organization headquartered in Northwest.
The foundation announced its plans on Saturday at the National Harbor in Oxon Hill, Md.
The museum will be located on the National Mall near the Washington Monument and has a scheduled completion time of late 2015 or early 2016.
The museum recently received gifts from billionaire media mogul Oprah Winfrey ($13 million) and the General Motors Foundation ($1 million). The U.S. Congress has agreed to provide half of the $500 million cost.
Margot James Copeland is the national president of The Links, which also counts former Secretary of State Condoleezza Rice and Liberian President Ellen Johnson Sirleaf as members.