'12 Years a Slave' To Be Part of High School Studies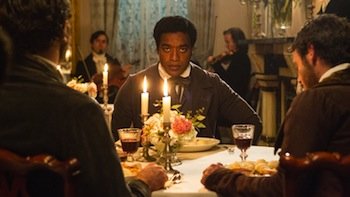 The NAACP Image Award-winning film "12 Years a Slave," which recalls the brutal tale of a man kidnapped into slavery in Louisiana, could soon be a learning tool in the nation's public high school classrooms.
TV personality Montel Williams — who was instrumental making the epic 1989 Civil War film "Glory" part of many of America's high school students' studies — is launching a joint initiative with the National School Boards Association to begin distributing copies of the Oscar-nominated film, original book and study guide to schools this fall, according to officials for the association.
"'12 Years a Slave' is one of the most impactful films in recent memory, and I am honored to have been able to bring together Fox Searchlight and National School Boards Association to maximize its educational potential," Williams said. "When Hollywood is at its best, the power of the movies can be harnessed into a powerful educational tool. This film uniquely highlights a shameful period in American history, and in doing so will evoke in students a desire to not repeat the evils of the past while inspiring them to dream big of a better and brighter future, and I'm proud to be a part of that."
The movie is based on the life of Solomon Northup, a free black man from upstate New York who was unwittingly captured into slavery in 1841 after two men offered him generous wages to join a traveling musical show as a fiddler. Northrup was eventually sold at auction in New Orleans, where he remained until he was freed again in 1853.
The film, which stars Chiwitel Ejiofor, has already spurred change to some degree in high school curriculums with discussions of the film — a response which director Steve McQueen admits he's always hoped for.
"Since first reading '12 Years a Slave,' it has been my dream that this book be taught in schools," McQueen said. "I am immensely grateful to Montel Williams and the National School Boards Association for making this dream a reality and for sharing Solomon Northup's story with today's generation."
David A. Pickler, NSBA president, said the organization is honored to partner with Fox Searchlight Pictures and Penguin Books to ensure that high schoolers have the opportunity to stare the stark realities of slavery in the eye through books and film.
"We believe that providing America's public high school students the opportunity to bear witness to such an unrelenting view of the evils of slavery is essential toward ensuring that this history is never forgotten and must never be repeated," he said.