D.C. Mayoral Hopeful Orange Nabs Union Endorsement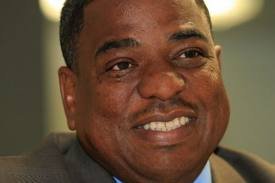 D.C. Council member and mayoral candidate Vincent Orange (D) received his first major endorsement on Monday, courtesy of the United Food and Commercial Workers Local 400.
The organization, led by Mark Federici, said that Orange is the best person to lead the city in the next four years.
"Council member Orange is a fighter for D.C.'s working families with a high-road economic development strategy based on lifting our people and neighborhoods up, rather than sending us on a race to the bottom through poverty jobs," Federici said. "Moreover, his leadership in support of the Large Retailer Accountability Act and an $11.50 per hour minimum wage has more than earned our enthusiastic recommendation."
Federici particularly lauded Orange's push for some large retailers to pay employees a "living wage," despite Wal-Mart's threats to curtail its development projects in the District if such legislation was passed.
"Unlike Mayor Vincent Gray and Council member Muriel Bowser, Vincent Orange stood with Washington workers rather [than] an Arkansas-based behemoth," he said.
Orange, 56, who unsuccessful ran for mayor in 2006, said he welcomed the union's support.
"I am elated to receive the endorsement of UFCW Local 400 and to assist over 64,000 District workers in receiving better hourly wages, minimum wages, living wages, sick leave with pay and furlough pay," he said. "These achievements make public service gratifying."