Bowser Wins Support of Emily's List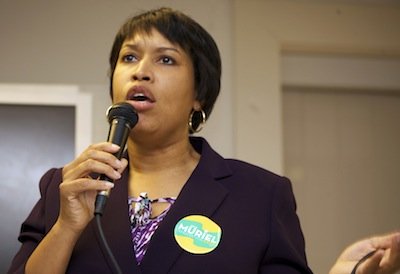 D.C. Council member Muriel Bowser, in her quest to become the city's second female chief executive, got the support of the nationally-renowned female political organization Emily's List, the group announced Tuesday.
"Muriel Bowser not only has the plans to improve D.C.'s schools, infrastructure and government, but she has the track record to prove that she can make those plans a reality," said Stephanie Schriock, the organization's president. "Her impressive work representing Ward 4 and her long-standing commitment to the economic development of the city make it clear that Muriel is the best choice for Washington's next mayor."
Emily's List, founded in 1985, has raised more than $350 million for pro-choice Democratic women and has recruited 9,000 women to run for political office. Female U.S. senators, House members, governors and countless legislators and local officials have benefitted from its funds and technical assistance.
"They recognize the need to have a strong woman take control of D.C.'s future and lead us in a new direction," said Bowser's campaign manager Bo Shuff.