D.C. Schools Offer Money to Boost Student Satisfaction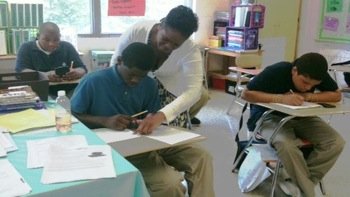 D.C. schools chancellor Kaya Henderson said Tuesday that 78 percent of city students polled last spring liked their school, but her goal is to boost those responses to 90 percent by 2017 — which she intends to accomplish via a new student-satisfaction award.
During a teleconference with reporters, Henderson said the Proving What's Possible for Student Satisfaction award "will allow schools to create or expand programs they know will work for their students."
"We want students to love school, be proud of their school, and feel great about what their school has to offer," Henderson said of the $5 million initiative slated for the 2014-15 school year. "So much of student satisfaction happens well beyond the classroom."
The award is an offshoot of the Proving What's Possible program, a 2012 initiative which focused on how students used their time, talents and technology.
Likewise, the 2014-15 award can be used for programs and activities, including expansion of robotics clubs and athletic clinics, making theater and drama projects available during after-school gatherings and developing anti-bullying initiatives.

Each of the District's 111 public schools can begin applying this week for grants ranging from $50,000 to $400,000. Applications are due the week of March 5, with award specifics to be announced the following week.
While money for the initiative in 2012 came from funds previously spent on centrally mandated pilots and programs, Henderson indicated that the source of the new funding remains to be determined.
"We don't have our mark from the mayor yet, in terms of what our [fiscal 2015] budget will be," Henderson said. "But in the same way that we didn't have our mark when we made the $10 million commitment [in 2012], I'm willing to make this commitment now because it's that important to us."
She also said the issue of funding the Proving What's Possible program will eventually be resolved.
"When we think about sustainability in the long term, we have a year-to-year budget, and while I can't predict what's going to happen … [if] we press to advocate to keep this money in our budget, in subsequent years there will be support for that," she said.
Henderson said she was putting the commitment on the table now to get school leaders and their teams thinking about what they want to do for the next school year, and to let them know that extra funding for which they applied from the award will be added to their regular budgets.