Arthritis Proves Debilitating for African-Americans
Nearly 100,000 in D.C. Suffer from Joint Pain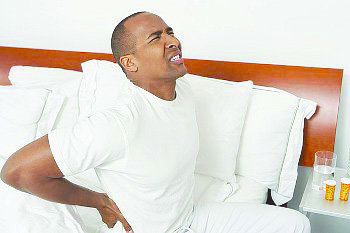 On a frosty and bone-chilling morning in March 2013, Camille Church battled the usual aches and pains of arthritis and climbed out of her bed, got dressed and began a 676-mile trip from her Merrillville, Ind., home to Capitol Hill in Washington, D.C. Church counts among the 4.6 million African-Americans living with arthritis in the United States.
She said she has suffered with rheumatoid arthritis for five years and decided to join other advocates to push Congress to support those with the illness through polices that would ensure more research, better treatments and greater access to care.
Along with the Arthritis Foundation, Church has urged support for a bill that would make medications more affordable for patients with arthritis; fund a pediatric subspecialty loan repayment program to address the critical shortage of pediatric rheumatologists; and include post traumatic osteoarthritis and rheumatoid arthritis in the Department of Defense research program.
"Insurance is supposed to spread the risk in an equitable fashion among everyone who is insured," Church said. "Yet, specialty tiers don't do this. I feel that I am being unfairly targeted because my illness requires me to take more expensive drugs."
Arthritis, which means joint inflammation, can be used to describe more than 100 rheumatic diseases and conditions that affect joints, the tissues which surround the joints and other connective tissue, health officials said.
The pattern, severity and location of symptoms can vary depending on the specific form of the disease.
Typically, rheumatic conditions are characterized by pain and stiffness in and around one or more joints. The symptoms can develop gradually or suddenly. Certain rheumatic conditions can also involve the immune system and various internal organs of the body.
Nearly 26 percent of women and 18.3 percent of men report that they've been diagnosed with arthritis while approximately 300,000 children under the age of 18 are diagnosed with juvenile arthritis, officials at the Arthritis Foundation reported.
Approximately 50 percent of adults 65 years or older reported an arthritis diagnosis and the number of affected individuals in that age group are expected to double by 2030.
"It's getting worse and there's no cure or prevention," said Northwest resident Stephanie Black, 47. "For African-Americans and other minorities, insurance doesn't necessary do much because the medication is expensive and insurance companies only pay a small portion, if any, of the cost for prescriptions for arthritis."
On Feb. 12, the Centers for Disease Control and Prevention (CDC) released a study that shows arthritis to be the most common cause of disability in the United States.
In Washington, D.C., the CDC reported that more than 95,500 adults are living with arthritis and half of them are severely limited by the illness.
"There's no more painful a feeling when you wake up in the morning and your body tells you that you can't move," said Lynette Harris, an arthritis sufferer who lives in Landover, Md.
Harris, 53, was diagnosed 22 years ago and she's tried various medications but none have seemed to work.
"Each time [doctors] change the medication, the cost goes up exponentially, and the results are still the same. I hurt," she said.