D.C. Political Roundup: Shallal Explains Voting Record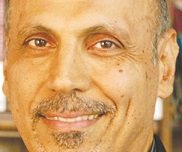 District entrepreneur and mayoral candidate Andy Shallal has come under fire recently for his inconsistent record of voting in elections.
Shallal has noted that he has not voted in some elections, but not six as journalist Mark Plotkin alleged at a Ward 3 Democratic mayoral forum on Feb. 11.
"I did vote in the November 2010 general election," said Shallal, 58. "We have not had that many elections since then."
Shallal hopes to be the Democratic Party nominee for mayor on Tuesday, April 1, and he, along with fellow candidates Reta Jo Lewis and Carlos Allen, have yet to serve in public office.
However, he has been active in District politics for years, serving as the campaign chairman of former D.C. Council member Michael Brown in his re-election effort, working to pass referendums and supporting better benefits for workers in the restaurant industry.
Shallal owns the highly profitable Busboys and Poets restaurant chain with locations in the District, Prince George's County and Northern Virginia. He also sits on various boards of progressive organizations.
Shallal said that there are solid reasons why he has not voted consistently.
"Like many District residents I am not satisfied with some of the candidates [who] are running for office," he said. "When I do not vote, I am sending a message that I am not pleased with what is being offered to the voters."
Shallal said that there's more to participating in politics than casting a ballot.
"Voting is the very lowest form of democracy," he said. "I should not be forced to vote."
Shallal said that one problem many District residents have is that they vote – and do nothing else.
"People think that by just pulling a lever democracy is behind them," he said. "Not so. People need to vote, get educated about the issues and get involved in the political process."
As far as the quality of the candidates, Shallal would like to see a change in the District's election process.
"We should look at having a run-off system, where the top two candidates compete for a party's nomination," he said. "That is a good way to bring more people into the process and make it more interesting to the average District resident."

Homan Working to Build GOP Support in Cities
Jill Homan, the District's Republican National Committeewoman, recently launched an effort on behalf of her party to reach out to voters in urban areas.
The effort, known as City GOP, will seek to connect Republican Parties in cities and their candidates with volunteers, voters and donors. It will offer policy solutions and winning campaign strategies in cities and seek out leaders who will focus on conservative solutions to urban problems.
"In 1999, half of America's dozen largest cities by population had Republican mayors," said Homan, 38. "These highly-populated urban areas are now growing more rapidly than their non-urban counterparts and that presents Republicans with a long-term structural problem."
The Republican Party has long since been portrayed by some political scientists and Democrats as a suburban, exurban and rural party that have little interest in urban issues. Leaders of the party are seeking to change that image because in the 2012 presidential cycle, President Obama won re-election and the U.S. Senate remained under Democratic control with strong support in the cities.
The rollout for City GOP includes a website, CityGOP.org, where visitors can search for local races and Republican Parties in cities. It will also feature a Republican candidate of the week and articles on the latest developments on urban Republicans.
"By bringing attention to the problem and offering solutions, the City GOP project hopes to bring a new day to America's cities," Homan said.
Former Maryland Gov. Robert Ehrlich, who led his state from 2003-2007, supports Homan's project.
"Reinvesting in cities is critical to growing a strong Republican Party," Ehrlich said. "We have seen the effectiveness of conservative policy solutions like school vouchers and enterprise zones, which have improved low-income children's education and spurred economic growth. With increased manpower and resources, Republicans can take our message and track record into urban communities, and thereby create more competition in traditionally blue states."