D.C. Mayor Gray Launches forWARD 8 Initiative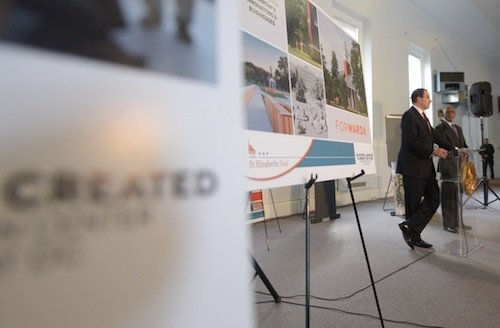 D.C. Mayor Vincent Gray, Victor L. Hoskins, the deputy mayor for Planning and Economic Development and Rosalynn Hughey, the interim director of the Office of Planning, announced Wednesday a plan to support District-led career training and business development projects for Ward 8.
The announcement took place at the chapel on the campus of St. Elizabeths East in Southeast.
The plan, "forWARD 8: Investing in Our Future," costs $2.5 million and will focus on preparing and connecting Ward 8 residents to jobs, while building skills and laying the groundwork for new business development in the community.
Gray has long championed economic development in eastern Washington.
"The forWard 8 initiative will do exactly what its name implies — move Ward 8 forward through close partnerships between District agencies and the community," the mayor said. "This initiative will help Ward 8 residents find jobs, build careers and create new businesses."
Projects who will receive forWard 8 funds are: The Demonstration Center ($1.75 million), The Center for Construction Careers ($350,000), Culinary and Entrepreneurship Training ($360,000) and the Ward 8 Business Directory ($40,000).
Hughey said that Ward 8 residents' input made the difference.
"We relied on partnership on every level to create forWARD 8," he said. "We began with what we heard from Ward 8 residents at the summits and created solutions through intense teamwork across agencies. The collaborative spirit will continue as we implement these critical steps in Ward 8 economic development."