Gray Leads in D.C. Mayoral Poll; Bowser Not Far Behind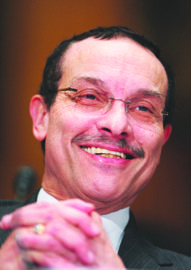 A new mayoral poll co-sponsored by The Washington Informer, along with NCB4 News and WAMU Radio, shows incumbent Vincent Gray leading in the April 1 race for the Democratic nomination, with D.C. Council member Muriel Bowser (D-Ward 4) not far behind.
The poll, conducted Feb. 17-23 among likely voters, has Gray outpacing Bowser, 28 percent to 20 percent.
Council members Jack Evans (D-Ward 2) and Tommy Wells (D-Ward 6) and Vincent Orange (D-At Large) garnered 13, 12 and four percent, respectively. District entrepreneur Andy Shallal pulled six percent, while former State Department official Reta Jo Lewis and District resident Carlos Allen received three and less than one percent, respectively.
The poll shows that 74 percent of the Democrats say that the city is on the right track and the majority surveyed think that Gray is doing is good job. However, the poll shows that 53 percent of Democrats are less likely to vote for Gray because of an ongoing investigation into his 2010 campaign.
The poll also reflects a racial divide. Gray is supported by 41 percent of blacks but only 10 percent of whites. Evans and Wells are in the single digits among blacks but split the white vote with 20 percent each.
Bowser, according to the poll, has crossover appeal with 18 percent white support and 23 percent among blacks.
Gray campaign manager Chuck Thies said he is nonetheless encouraged by the poll numbers.
"Our strategy can make that lead grow," Thies said. "We have been saving our resources for the closing weeks of the election. We like leading in the polls, but what we really have our eye on is the Democratic primary on April 1."