LETTERS TO THE EDITOR: Justice for Blacks
2/26/2014, 3 p.m.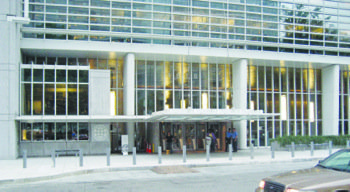 We are writing this brief letter to thank you for publishing Mr. Barrington Salmon's series of articles on racial discrimination at the World Bank. The articles were very informative and were successful in addressing a very complex issue. The first series (Black Staffers Battle Racism and Discrimination at World Bank, February 5, 2014) was widely read as the 320 plus Facebook likes indicate. It was also picked up by Los Angeles Sentinel and Black Voice News.
In general, all three articles were informative and well written. Most importantly, they proved to be helpful in bringing together civil rights organizations to form a coalition to tackle the problem head on. Several civil rights organizations met in Washington yesterday including NAACP, Rainbow/Push Coalition, the Urban League and National Action Network. Several of the attendants mentioned Mr. Salmon's articles. One of them said it is hard for us to ignore the problem having read what was published in the Washington Informer.
We are thankful and hope that your newspaper will continue to follow our pursuit of justice.
Sincerely,
Phyllis Muhammad, J.D., Co-Chair, Justice for Blacks
Yonas Biru, Ph.D., Co-Chair, Justice for Blacks
Let's Talk — Honestly!
I would like to know more about what Black Republicans have to say regarding the state of blacks in America. We always hear them talk about why more blacks should vote for Republicans in elections, and how Republicans want to lower taxes and lower the national debt.
I read the article by Stacy Brown in the February 20, 2014 edition, "Republicans Aggressively Recruit Black," but I didn't get anything from that story other than they want to parade names of people who were Republicans at a different time and era and those who are currently Republicans who don't relate to poor Blacks.
If those in the Republican Party can honestly show that cutting programs for the poor will translate into more jobs for the poor, I believe they could attract more of the votes they are looking for. That's what they need to do, but let's see real examples. This whole idea of pulling yourself up by your bootstraps sounds good, but what if you don't have any boots or even shoes? What are you going to pull on then?
I am sure there are plenty of blacks, like myself, who would listen, but only if it's straight talk and not some pie-in-the-sky stuff.
William Boston
Prince George's County
Defining Love
The stories in your special section, "Planting & Reaping Love," February 20, 2014 edition were exemplary stories of love and commitment. I enjoyed reading them very much. But it was the quote on the front-page of The Informer by Lao Tzu that put things in perspective about my relationship and my life.
The quote states, "Being deeply loved by someone gives you strength, while loving someone deeply gives you courage." As a husband and a father, without that kind of love I would have never been able to do the things I have been able to do. I would have never had the strength or courage to try to maintain and fix things around the house, knowing I knew nothing about it. That kind of love gives you the courage to stand in front of a crowded auditorium full of parents at a PTA meeting and speak on behalf of your children, because love tells you that if you don't speak up for them no one else will.
That kind of love gives you the strength and courage to look at yourself and realize that you are not all that you thought you were and that you need to work and grow. And if you fail, with that kind of love you know those who love you will not leave you. It is a beautiful quote and I am a witness: Love can change your life.
Leonard Davis
Largo, Md.