Obama to Launch Initiative for Minorities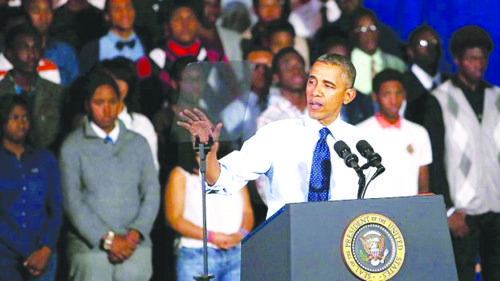 With a flood of recent criticism about what he's failed to do for African-Americans, President Barack Obama plans to answer his critics in a profound way.
White House officials said Obama will use his presidential powers to make sure that every young person of color who's willing to work hard and lift themselves up has an opportunity to get ahead and reach their full potential.
"We're going to pull together private philanthropists, foundations, work with governors and mayors and churches and non-profits and we're just going to focus on young men of color and find ways in which we can create more pathways to success for them," Obama said earlier this month.
At a media event in the East Room at the White House scheduled for Thursday, Feb. 27, the president will officially unveil his new initiative, which he's named "My Brother's Keeper."
During his State of the Union Address in January, Obama said as part of his broader commitment to advance opportunity for all Americans, he would focus on efforts to build up minority communities.
"I'm reaching out to some of America's leading foundations and corporations to help young men of color facing tough odds stay on track and reach their full potential," he said.
Some parts of the new initiative will involve identifying and changing government policies that create undue barriers to opportunity, a White House official said.
Much of the initiative will focus on private sector opportunities, and the president has invited several prominent black men to Thursday's event.
At the event, they are expected to discuss how corporations and foundations can work together on community-centered activities to help children come to school prepared to learn and to stay away from criminal activity.
Mostly, Obama's initiative seeks to create programs that will assist with literacy and early learning and help young men to find jobs and career opportunities, White House officials said.
"I think I have already received so much training that I can be a supervisor at a technology company," said Quentin Bramble, 39, a Northeast resident who said he and his brother Andrew have each been unemployed for more than two years.
Bramble said the siblings regularly comb the Department of Employment Services website and sometimes they visit its Minnesota Avenue offices in Northeast, looking for job leads. "Before Obama became president, jobs were pretty scarce and they remain that way," said Andrew Bramble, 36.
"So, when Obama talks about doing something for young black men, the first thing that I'm hoping is that I'm still considered young and the second thing is that whatever he's going to do will give us a legitimate shot at not just a job, but something that'll last and something we can take care of our families with."
Obama's announcement came as criticism has grown regarding his lack of action in the black community.
Critics have pointed to declining college enrollment and graduation rates that are plaguing the African-American community and, the most recent jobs report showed that the unemployment rate for black men over the age of 20 remains at 12 percent, compared with 5.4 percent for white men.