Obama to Launch Initiative for Minorities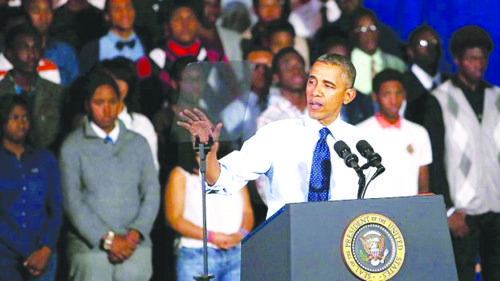 Shaun Harper, a professor in the graduate school of education at the University of Pennsylvania who has researched the effectiveness of educational programs focused on young men of color, told NBC News that there's been little strategic planning to help blacks.
"Given that there has been so much activity, why has the outcome not changed? Why have the numbers of black men in college, in terms of enrollment and academic performance and graduation rates pretty much remained the same as they were 15 years prior?" Harper said.
In preparing for Thursday's unveiling of his "Brother's Keeper" initiative, Obama met with several prominent black officials to discuss raising the minimum wage, the black unemployment rate, health care, voting rights and education.
"We talked extensively about the challenges of unemployment, the challenges of under-employment, the challenges of black and urban and brown unemployment in this nation," said Marc Morial, president of the National Urban League.
"This president's ear, this president's concern for our community is as strong as ever," said Morial, 56.
The Rev. Al Sharpton, who also attended the meeting with Obama on Feb. 20, said everyone should embrace the president's new initiatives.
"It was one of the most substantive meetings I have had with any president," said Sharpton, 59. "We are firmly convinced the president will fight for jobs, training, minimum wage and voting rights as well as explore the other areas of concern that we raised."
Whether or not it's a result of the president's commitment toward African-Americans, Wal-Mart officials announced on Monday, Feb. 24, that the big box chain would provide $1.75 million in grants to three of the nation's largest civil rights organizations, the National Association for the Advancement of Colored People, the National Urban League and United Negro College Fund.
The funds are earmarked to help 16 historically black colleges and universities gain financial stability to ensure their continued mission of providing black students with a higher education.
Wal-Mart officials said the money will also be used to help individuals secure and build successful careers through training and placement assistance. Additionally, it will allow businesses to create more job opportunities.
"With today's economic climate there is a growing need to empower individuals in communities nationwide with access to opportunities that will help them live better. Part of this work will come from helping businesses understand and unlock the powerful results that a more diverse workforce has to offer," said Tony Waller, Wal-Mart's Senior Director of Corporate Affairs.
"By helping one individual at a time build a successful career, we are growing a more competitive work environment," Waller said. "A competitive environment ignites innovation, which helps build stronger communities and, ultimately, a stronger America."