Students Invent Mobile App, Receive Honors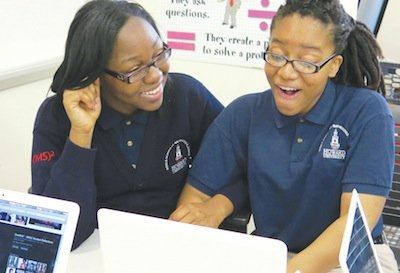 A group of District students moved one step closer to winning $20,000 in grants and Samsung tablets in a national competition last month.
A team comprised of five girls from Howard University Middle School of Mathematics and Science in Northwest counted among 81 Best-in-State winners in the Verizon Innovative App Challenge, a competition that allows students to develop mobile technology that addresses problems in their schools and communities. Their app, Build Central, helps inventors create three-dimensional models of their products, share ideas with colleagues, and solicit financial support from investors.
"We [sketched] the [different windows on the smartphone screen] that people saw [when they used the app], starting from the point [that] it loads, to when they log in and [view different profiles]," said LeNia Samuels, 13, a member of the team. "We then designed the app using different websites," said LeNia who lives in Southeast.
The eighth-graders conceived the award-winning idea last year during sessions at the Startup Middle School, a program that provides a combination of STEM (Science, Technology, Engineering, and Mathematics) instruction and opportunities for real-world application. Instructors hold classes within Howard University Middle School of Mathematics and Science. When the Verizon Foundation, a nonprofit that focuses on education, health care, and energy issues, launched the contest in September, the quintet submitted a three-minute video and an essay that outlined Build Central's functions.
Other submissions in the app challenge included inventions that connect fitness enthusiasts through social media, collect data about individual energy consumption, and provide assistance to the disabled during natural disasters. Patrick Gusman, co-founder of the Startup Middle School and the team's faculty adviser, said that the project provided the students with some insight into the value of a solid mathematics and science education in an increasingly technological world.
"We want to provide practical training in this program so that our students can [be of value] in the economy," said Gusman, 52. "That has become a part of our philosophy of being well-rounded and presenting them with these opportunities. They're [becoming] players in the technology [field] and not waiting until college to learn the vocabulary," said Gusman who lives in Northwest.
Advocates for STEM education have long attributed the more than two million vacancies in the technology field to the dearth of qualified candidates, calling the issue a matter of global competitiveness and national security. In recent years, schools in the District and across the country have started STEM enrichment programs in an effort to provide high-quality mathematics and science instruction for students from low-income communities. Since winning Best-in-State, some members of the team have expressed a desire to further explore the STEM field and break into industries that lack a strong minority presence.
"We recently went on NPR and talked about [the need] to expose black children in D.C. to the technology industry," said Nkozia Knight, 13. "There are not a lot of African Americans in the STEM field. The people who are in it treat it like a fraternity. That is something they should change," said Nkozia who lives in Northwest.
The Verizon Innovative App Challenge, now in its second year, attracted 1,300 submissions from middle school and high school teams across the country. Judges announced eight groups that would go on to the Best-in-Nation stage of the competition on Wednesday, Feb, 26. Those who did not move on will receive tools from Massachusetts Institute of Technology Media Lab, a research facility based in Cambridge, Mass., to help them move further along in the production and marketing of their apps.
Ellen Yu, public relations manager at the Verizon Foundation in Basking Ridge, N.J., said the contest shows the nonprofit's commitment to addressing disparities in education and adequately preparing the next generation for careers in technology.
"Our foundation has launched these programs that use technology to advance work and education to get kids interested in STEM," said Yu. "There are a lot of STEM jobs but we just don't have the people. We're interested in grooming our future workforce. Some of these kids are our employees' children. We want to get them ready so that by the time that they graduate, they can be interested in these STEM jobs."