Tommy Wells: Fire Ellerbe, Quander for Mills Death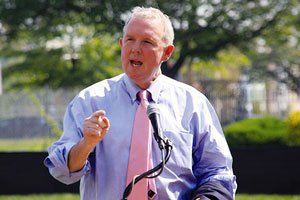 D.C. Council member Tommy Wells, the chairman of the Committee on the Judiciary and Public Safety and mayoral hopeful, sent a letter to D.C. Mayor Vincent Gray on Tuesday demanding that Paul Quander, the deputy mayor for public safety and justice, and Kenneth Ellerbe, the city's fire and emergency management services chief, be relieved of their duties.
Wells, a Democrat who represents Ward 6, said he based his conclusions on the responses of the Gray appointees to recent mishaps, particularly the death of Cecil Mills, during a committee hearing Monday at the John A. Wilson Building in Northwest.
"I chaired an oversight hearing to give the Gray administration a chance to explain what happened in the Cecil Mills case, in which five firefighters failed to respond to a personal plea for help at the firehouse door," Wells said. "Specifically, I wanted to hear the mayor's plan to fix the situation so it will never happen again. The administration's response was deficient and disappointing."
Wells has been a critic of Ellerbe's performance as fire chief in the past, but had not called for him to step down until now. The call for Quander to be fired is the first since Gray took office in 2011.
Gray has stood by Ellerbe in the past and has a close professional relationship with Quander.
Wells said there must be a new culture in the public safety realm, particularly the fire department.
"Blaming racial divisions, union membership, or other perceived motivations for the department's dysfunction must end," he said. "It is a disgrace to place responsibility on the rank and file employees who put their lives on the line for D.C. citizens every day. Whatever the divisions in the department, only strong leadership, sound management, and a new culture of excellence can resolve them."