Watkins Award Finalists Visit D.C.
Rick 'Doc' Walker Serves as Keynote Speaker for National Ceremony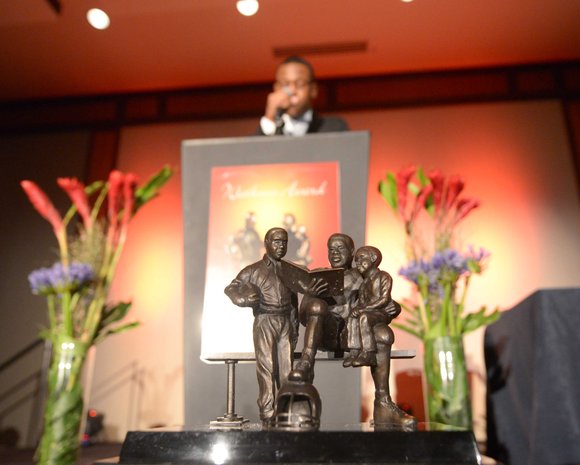 To call Bobby Okereke's route to a college football scholarship unconventional would be an understatement. The current high school senior never played in community youth leagues as a youngster, or donned football pads in junior high school.
His initiation into the sport came just three years ago as a freshman at Santa Ana, Calif.'s Foothill High School.
A lot has changed in three years.
Bobby Okereke is headed to Stanford University this fall on a football scholarship.
"I personally found Stanford to offer the best combination of academics and athletics," Okereke, 17, who carries a 4.4 GPA, said. "My ultimate goal is to become accepted into Stanford's business graduate school. I'm also interested in humanities, philosophy and political science. I either see myself going into the business world or becoming involved in politics."
Five of the country's most-decorated high school football players converged on the nation's capital the evening of Saturday, Feb. 22 to be honored by the National Alliance of African-American Athletes for their athletic and academic achievements.
Bobby Okereke walked away as the winner of the 2014 Franklin D. Watkins Memorial Award.
The five finalists – Okereke, Tony Brown (Beaumont, Texas), Zavier Carmichael (Mobile, Ala.), Christopher Register (Greensboro, N.C.) and Richard Yeargin III (Ft. Lauderdale, Fla.) – were considered for the award once they completed a rigorous application process that included providing three letters of recommendation, a pristine academic record and a 500-1,000-word essay.
"[We're] trying to break the mold and change the stereotypes that say African-American teens are just good athletes and not good, cerebral students," Bobby Okereke said. "The five of us here today are here to show the generation of kids who are coming after us that there are others who look like them, and who care about their academics just as much as they care about athletics."
Capitol Hill's Hyatt Regency, in Northwest, opened its doors to accommodate the more than 300 guests for the event, complete with a red carpet. Finalists, family, friends and coaches donned tuxedos and gowns for the elegant evening ceremony. The event, now in its 23rd year, is usually held in Los Angeles. But one local celebrity said he was excited to see his city take center stage for the evening.
"I'm proud of the District of Columbia. I've been here longer than anywhere on earth, so I consider this to be an honor. We should have the ceremony here," Watkins Award banquet keynote speaker and former Washington Redskins tight end Rick "Doc" Walker, 58, said. "This is the greatest city on earth and we should represent it that way."
Other Watkins Award alumni traveled to Washington to congratulate this year's finalists.
"It means a lot to be able to come back and stay connected with Watkins guys. I still stay in touch with the finalists who were in my class," Olney, Md., native and current Miami Dolphins linebacker Jelani Jenkins, 21, said. "What the Watkins Award means for African-American youth and the community, is just amazing to me. I try to make it back each year. D.C. is home to me, so this is neat. I'm glad to see these guys following in our footsteps. We're just trying to be role models to others."