Young Golfer Aspires to Greatness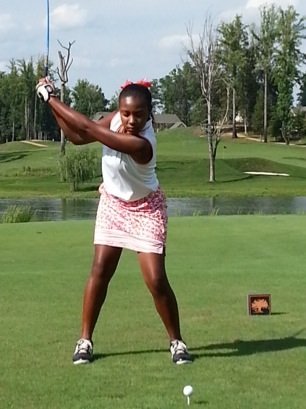 With the pro golf season underway and players such as Tiger Woods, Phil Mickelson, and Sergio Garcia preparing for the Masters Championship in April, a local champion has emerged on the sport's radar.
At 15, Bowie, Md., high school junior Micaa Thomas already has made a name for herself. She's blazed her way into a world that remains less than hospitable to blacks despite Woods' unparalleled success.
"My mom was playing golf when she was pregnant with me, so that's where it all started," Micaa said. "I've traveled to play at different places, like Canada, Ohio and all around the United States and I love it."
Micaa, who attends Archbishop Spalding High School in Severn, Md., said she hopes to one day join the Ladies Professional Golf Association (LPGA).
A member of the Tiger Woods National Junior Golf Team, she's following in the footsteps of another young African-American great, Ginger Howard, who turned pro at 17.
Prior to the start of her pro career more than two years ago, Howard, 19, won 78 trophies, ranking first in 41 out of 66 events, and she made history as the youngest member of the LPGA at 17.
Micaa's trophy case already rivals that of Howard's.
Last year, she captured the Maryland State Golf Association Women's Amateur Championship 4th Flight at the Elkridge Country Club in Baltimore.
Golf experts consider that contest as being one of the toughest because it's open to all challengers including collegiate golfers who use the event as a warm up for the National Collegiate Athletic Association golf season.
Micaa has also won the Amateur Athletic Union National Golf Championships in the 16-and-under division.
"Through all of her tournaments and all of the experience she's gaining, it's moving to see her excel, especially under pressure," said Terry Shaffer, a Professional Golf Association (PGA) director of player development in Waldorf, Md.
"She's got some more high school to be completed and her enthusiasm isn't misplaced. Micaa has been fun to watch," said Shaffer, 56, the reigning Atlantic 10 Coach of the Year at George Washington University in Northwest.
Micaa deserves all of the fanfare surrounding her, said Louis Tate, a PGA member and general manager of the Langston Golf Course in Northeast.
"Having begun playing golf only five years ago, she has progressed at an amazing rate," Tate said. "Equally impressive is the number of events she's played in over a 15-month period. This commitment confirms my initial impression of her upon our first meeting. She loves golf, she's having fun and she wants to succeed and has the smarts to do so."
Family members also are impressed with her performance on the links and in the classroom, said Michael Thomas, Micaa's father.
"Academically, she maintains a 3.8 grade point average and right now, she's met the requirements for the National Honor Society," he said.
Cheryl Thomas, Micaa's mother, said being the only child as well as a victim of constant bullying, counts as the primary reason she and her husband began providing golf lessons to Micaa.