Young Golfer Aspires to Greatness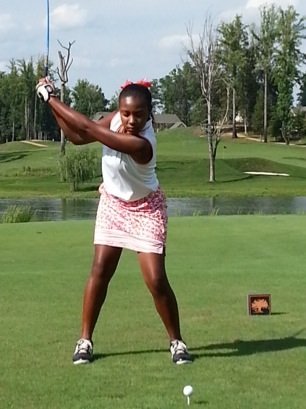 "She was in middle school and, being the only child, she didn't know how to deal with conflict," Cheryl Thomas said. "I was looking for a sport where she could excel on her own ability, not a group thing. She participated in tennis and swimming and she played the piano and other things. She played basketball and softball, but she was always being bullied," she said.
Micaa appears poised to help break barriers in a sport, which started in Scotland in the 15th century, that hasn't always welcomed African Americans.
"My determination is there and I'm determined to do well," Micaa said.
The support from her parents sustains Micaa and also provides additional motivation, she said. "It costs a lot of money to do this, but the sacrifice is worth it," Michael Thomas said. "We find ways to pay for these things, but it's not easy."
Cheryl Thomas even caddies for her daughter, because it could cost more than $1,000 to hire a caddy just for one tournament.
"Micaa's determination and the amount of effort she puts in are amazing," Cheryl Thomas said. That determination proved itself on a hot, humid and otherwise brutal day in July 2013 when Micaa played at a tournament in Greenville, Tenn.
On a tee-shot, Micaa's ball landed in a thick brush off the fairway.
As she contemplated announcing the ball to be unplayable, which would have meant the automatic loss of one stroke, Cheryl Thomas conferred with her daughter and Micaa ultimately crawled into the thick brush, and hit a Tiger Woods-esque shot that more than raised eyebrows.
"She won that tournament by 11-strokes," her mother said. "Not too many girls would have done that."
A complete list of Micaa's scheduled competition for 2014 and her profile can be found at www.micaathomas.com.
The golfing sensation's efforts to be among the elite has garnered support from the Atlanta, Ga., based Women in Golf Foundation, an organization dedicated to assisting female junior golfers and women in obtaining the necessary corporate and individual sponsorship needed to participate in the expensive sport.
Foundation officials said they offer a tax-deductible benefit to all who contribute as an incentive to supporting young and aspiring golfers.
"It's a great organization and contributions really do help to offset the high cost of travel, tournament registration fees, training, and equipment upkeep," Michael Thomas said.
To make a contribution for Micaa through the Women in Golf Foundation, visit their website at www.womeningolffoundation.org and indicate Micaa's name.