Eleanor Holmes Norton Fights for D.C. Seal in Library of Congress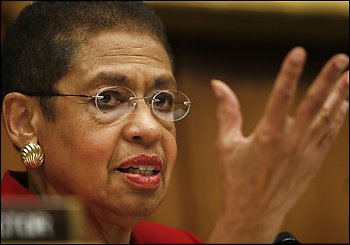 D.C. Delegate Eleanor Holmes Norton (D), who has won battles to put Frederick Douglass in Statutory Hall in the U.S. Capitol and the right have the District flag flown with the 50 states on armed services property, is sponsoring a bill that would have the city's seal located in the Main Reading Room of the Library of Congress's Thomas Jefferson Building.
"The time to add the District seal is now, during the planned restoration of the stained-glass windows in the Main Reading Room," Norton said Thursday. "The residents of the District of Columbia have always had all the obligations of American citizenship, including paying federal taxes and services in all of the nation's wars, including the War of 1812, during which the Capitol building, which then housed the Library of Congress, was burned, prompting construction of the current Library of Congress building with the state and territory seals.
"It is therefore, without question that the District and its residents should receive equal treatment among the stained-glassed windows that portray the history of the United States," she said.