Coerced Confessions Ruin Faith in Criminal Justice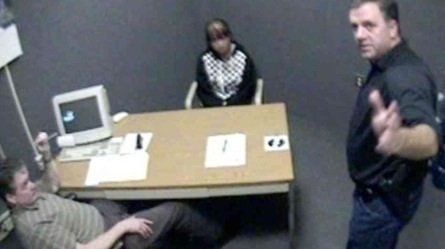 Inside a Chicago police station, four men sat in an interrogation room and the quartet found themselves relentlessly questioned by police about a brutal crime.
Minutes, and then hours, passed and ultimately after being worn down by their interrogators, the men confessed and were later found guilty by a jury in 1994 because of the confessions.
Two years ago, each were cleared because of new DNA evidence and because the confessions were coerced.
In nearby Rockford, Ill., and nearly a decade later, three black men were convicted of the 2002 murder of an 8-year-old child in large part due to their confessing to the crime.
However, in an unusual turnaround, the detective who arrested the men himself offered this stunning public confession: "They were innocent and I knew it."
Retired Rockford police detective Doug Palmer told NBC News that the three, Anthony Ross, TyJuan Anderson and Lumont Johnson, each who had already served 10 years of a 50 year sentence, that the American Justice system had badly failed them.
"If there is anything this case proves is that the justice system is broken," said Palmer, who admitted to slapping the men during his interrogation, threatening them and fabricating statements.

Palmer said, in one other case he investigated, he handcuffed a young mother and left her crying baby on the floor in an attempt to force a confession out of her.
"The presumption of innocence for African Americans throughout the criminal process is still hard-won," said Edwin Grimsley, a case analyst for the Innocence Project in Northwest. "Racially biased harassment in poor neighborhoods is an all too common occurrence for African Americans," said Grimsley, who writes an "Innocence Blog."
"As adolescents, such constant police pressure leads to a cycle of criminal arrests. [Also], biases against those with criminal records can often lead to suspicion, stops and interrogations."
Recent data from the National Registry of Exonerations in Michigan shows that 15 percent of the wrongful convictions in its database involved a false confession.
"Primarily, you see young black males on the other side of the interrogation table and whether they had anything to do with the crime or not, there's a detective or police officer attempting to get them to admit to something they didn't do," said Harry Dibble, a Northeast resident who said his brother, Louis Dibble, was unjustly convicted of a drug offense 17 years ago in large part due to a statement he said police forced him to make.
In 1995, Sabein Burgess received a life sentence after being convicted of murder in Baltimore.
His conviction was based on statements made to police and gunshot residue found on his hands. However, earlier this month after the Innocence Project presented an expert who testified that the gunshot residue could have come from holding the victim, and the victim's son revealed that he had seen the shooters and Burgess wasn't among them, a judge overturned the conviction and police brought the real killer to justice.
On Wednesday, Feb. 20, New York's attorney general proposed legislation that would allow those who have confessed or pleaded guilty to a crime they didn't commit to sue the state for damages.