Martin Luther King Classmate Celebrates Black History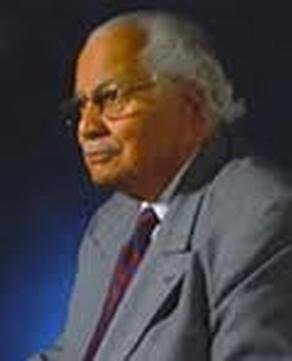 When officials at Sunrise Senior Living were putting together plans to celebrate Black History Month, it was easy for them to turn to one of their most famous residents.
Rev. Marcus Wood, the last living student of Dr. Martin Luther King Jr., joined a then-unknown King and 10 other black preachers in integrating the Crozier Theological Seminary in Upland, Pa., in the 1940s.
"About four or five months ago, he came to us with his wife, Bessie, who was also close friends with Rosa Parks," said Lynette Walsh, the executive director at Sunrise, which has locations in Northern Virginia and Maryland.
Walsh said that in their earlier days living in Baltimore, Wood and his wife provided hospitality for King, Parks and other prominent African Americans because in the early- to mid-1900s, blacks were prohibited from staying at hotels.
"I don't think the residents realized what a celebrity we had, but we've done plenty of tours here and I can't tell you how many times people have recognized Rev. Wood," Walsh said.
"It's been unbelievable throughout the community. He's definitely a celebrity and with all that has been published; we make sure the residents know that they have a real civil rights hero here."
A popular pastor for more than 60 years at Providence Baptist Church in Baltimore, it's almost impossible for any to disagree that Wood counts as a true African-American treasure. He's living history.
Wood, 93, grew up in Gloucester, Va., as one of seven sons of Frank and Julia Wood.
In 1937, Wood received a license to preach and officials at the Union Zion Baptist Church in Ware Neck, Va., ordained him three years later.
"I was in high school and I knew that the ministry is where I was going to be, there were no doubts," Wood said.
He would go on to serve as pastor at Wainwright Baptist Church in West Virginia and Bethlehem Baptist Church in New Jersey.
It was while in New Jersey that Wood made the decision to attend Crozier, where he earned his Master of Divinity degree. It's also where he met King.
"We didn't know that King would become the great figure he became, he was playful like the rest of us, but we also weren't surprised because he always wanted to get people together," Wood said. "King had a soft voice, but another reason all of us in the class knew he would do well was because his family had money and he was independent, he didn't have a church to depend upon his living, so he could go around the country and preach."
He said King's success and ultimate assassination were both predictable.
"He was the leader and he kept going to the South where we knew that he was so aggressive that there was a chance he'd be murdered," Wood said.
Ten months before King was to preach at Wood's church, an assassin's bullet killed the icon.
The longtime reverend also recalled the first time King had a meal with a white person and when his wife taught King how to cook some of their favorite dishes.