Obama Proves He's His 'Brother's Keeper'
President Relates to African-Americans with New Initiative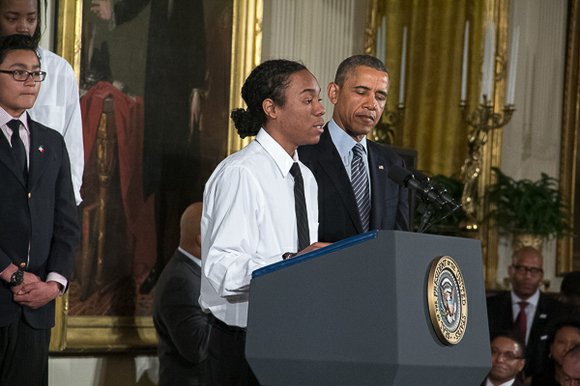 "This is a moral issue in our country," Obama said. "We just assume this is an inevitable part of American life, instead of the outrage that it is. These statistics should break our hearts and they should compel us to act."
With Trayvon Martin's parents in attendance, along with basketball legend Earvin "Magic" Johnson, former Secretary of State Gen. Colin Powell, the Rev. Al Sharpton, National Urban League president Marc Morial, Fox News personality Bill O'Reilly and others, Obama called for business owners, religious leaders, actors, athletes and others to step in and help young blacks to stay the course.
He also challenged black youth to not make excuses or blame "the man" when they fail to make the best decisions.
"You will have to reject the cynicism that says the circumstances of your birth or society's lingering injustices necessarily define you and your future," Obama said. "It will take courage, but you will have to tune out the naysayers who say if the deck is stacked against you, you might as well just give up or settle into the stereotype. Nothing will be given to you."
The president's speech evoked tears from CNN anchor Don Lemon, who was in attendance for the historic announcement.
"Obviously, I am a journalist, we want to remain objective, but I'm also a human being and I relate to that more than most," said Lemon, 47. "What the president was saying is regardless of the circumstances around you, and, yes, we get racism, yes, we get the playing field is not even, but you cannot let that stop you. You don't let other people define who you are because they may think of you as other or you're a black person or they may be discriminating against you."
A number of foundations have pledged at least $200 million over the next five years to seek solutions to early-childhood development, school readiness, educational opportunities, parenting, the criminal justice system and other problems that primarily affect young blacks.
"This is not a one-year proposition or a two-year proposition," Obama said.
"It's going to take time. We're dealing with complicated issues that run deep in our history, run deep in our society and are entrenched in our minds."