Obama: 'There Will Be Costs' for Russian Intervention in Ukraine
WI Web Staff | 2/28/2014, 5:30 p.m.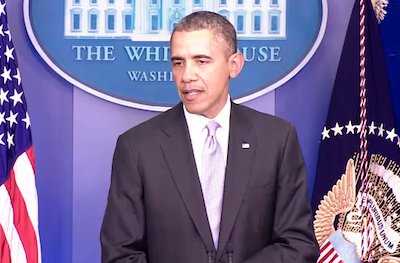 President Barack Obama, during a brief statement Friday at the White House on the unrest in Ukraine, called for neighboring Russia to pull back military forces in the region, promising that "there will be costs" for any military intervention.
"We are now deeply concerned by reports of military movements taken by the Russian Federation inside Ukraine," the president said.
Obama's statement comes as fears grow of a full-blown Russian takeover of Ukraine, which is a sovereign nation. Such a violation, Obama said, would be "deeply destabilizing."
Earlier in the day, Secretary of State John Kerry tersely warned Russia against military moves in the Ukraine's Crimea region. Ukrainian officials have accused Russia of an "armed invasion."
Russia has denied any military actions, claiming its armored vehicles in the region are for "security reasons."
Ukraine's acting President Oleksandr Turchynov, who took over last week once Viktor Yanukovych fled to Russia after being ousted, urged Russian President Vladimir Putin to stop "provocations" in Crimea.