Pride & Prejudice: The Retrial of George Stinney
American Justice's Negligent History of Incarcerating Blacks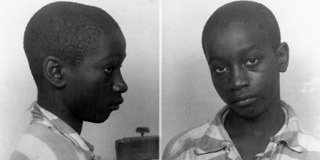 "We should set up a procedure to prevent it from occurring in the first place, and we just haven't really done that," Gray said.
Despite the posthumous exonerations of the Scottsboro Boys and the new efforts to clear Stinney, many are still skeptical about the American justice system.
Recent reports show that one in three African-American males are either in prison or have served time in jail.
In 2011, reports showed that there were more African-Americans in prison or under the watch of the justice system than were enslaved in the United States in 1850.
"The criminal justice system is still not color blind," said James Goodman, a professor of history and creative writing at Rutgers University in New Jersey. "Sadly, our prisons are still full of youngish black people who have been falsely accused of crime. Your chance, even to this day, of being incarcerated for something that you didn't do are still much greater if your skin is black or dark."
The incarceration rate of blacks as opposed to whites and other groups continues what has been deemed by some as "The Black Holocaust."
In April, director Ken Burns completed and aired a documentary called "Central Park Five," which told the story of five black and Hispanic teens who were convicted of raping a white female jogger and badly beating her in New York's Central Park in 1989.
In a rush to judgment and to close the case on a believable note, authorities arrested the teens and allegedly told them that if they confessed, they could go home.
They were convicted and sentenced to long prison terms.
After more than 13 years, DNA evidence exonerated the young men and a notorious serial killer was later arrested and confessed to the crime.
Last month, the five men who had filed a lawsuit against the city of New York, were in court asking that a judge compel officials to reach a resolution in the suit, now more than now a decade old.
"Where's our justice? We have seen five mayors now. Where's our justice? When is the time to finally close this case? This is what we're waiting on," said Raymond Santana, one of the Central Park Five.
Another of the wrongfully convicted in the Central Park case, Yusef Salaam, said justice remains elusive for all black and minorities.
"We were the ones when we went in who were hoodwinked," Salaam said. "We were the ones tricked and led astray."
Then Salaam summed up the feelings of many in the black community who said the injustice that's been perpetrated in the American justice system for centuries cannot be tolerated any longer.
"Never again," he said.