P.G. County Crime Reaches Record Low
Joshua Garner | 1/3/2014, 3:43 p.m. | Updated on 1/8/2014, 3 p.m.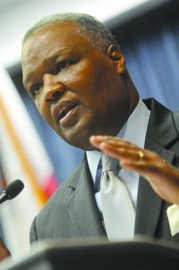 Officials in Prince George's County are boasting that residents are safer now than they have been since 1986 after county crime stats for the past year showed a continued decline in violent crime rates.
County Executive Rushern L. Baker III (D) joined Maryland Gov. Martin O'Malley (D) and various law enforcement officials Jan. 2 in Lanham to announce the crime statistics from 2013, which represents a 38 percent decrease in homicides and a 30 percent decline in violent crimes since 2010.
"We understand that a great county is one that has safe streets and neighborhoods," Baker, 55, said. "Today, we are here to tell the region that Prince George's County is a safe place to live, work, and visit."
Baker has been aggressive in an ambitious plan to overhaul the county's image since taking office in 2010 including restructuring the county schools' leadership, increasing the county's tax revenues from commercial real estate, and aggressively lowering the county's crime rates.
Not long after taking office, Baker began the Transforming Neighborhoods Initiative, which focused resources in crime-plagued communities in the county. And by all accounts, the initiative appears to be working. By the close of 2013, the county experienced its second consecutive year of declines in crime.
Homicides are down 13 percent compared to 2012; and violent crimes are down 14 percent compared to 2012, according to statistics from Prince George's County Police. For 2013, the overall crime rate dropped by 12 percent compared to 2012.
The news was a welcome surprise for residents as well in communities closer to the Capital Beltway, where crime is largely clustered.
"We have to be involved," said Belinda Queen-Howard, 51, of Capitol Heights who leads the Dist. 3 Coffee Circle, a group that works with county police and officials to address issues in the community. "If you see someone doing something wrong, report it."
Prince George's County Police Chief Mark Magaw conceded that police had to rebuild their relationship with the community over the past few years.
"Our relationships were strained in the community," he said. "Those relationships are much stronger [now] than they've been before."
Still, officials said that progress has also been made in lesser crimes.
Magaw boasted a 50 percent decrease in carjackings, a 40 percent decrease in stolen vehicles and a 40 percent decline in robberies since 2010.
"… This police department is not yet satisfied and we are not done yet," Magaw said. "We will continue working every day and night to keep our communities safe."
Baker and Magaw said that turn in crime rates was largely due to increased partnerships with agencies within the county including the Office of the State's Attorney and the Prince George's County Sheriff's Office. The heads of those agencies began having weekly meetings in 2011 after 13 homicides were committed in the first 12 days of the year.
Angela Alsobrooks, State's Attorney of Prince George's County, said it's possible for the county to keep the momentum going. She noted that her office has a 75 percent conviction rate in overall cases, and a 93 percent conviction rate for homicides.
"The progress is sustainable and this is not by accident," she said. "…We're going to make sure we do our best to send the message that crime in Prince George's County is not acceptable."
O'Malley applauded the county's teamwork as a model for how agencies can work together to accomplish goals.
"Saving lives is the goal and you're being successful," he said. "It's about the common platform."
For more Prince George's County/Maryland news, follow @JoshuaGarnerDC on Twitter.