Watt Sworn In as Housing Agency Director
WI Web Staff | 1/6/2014, 8 p.m.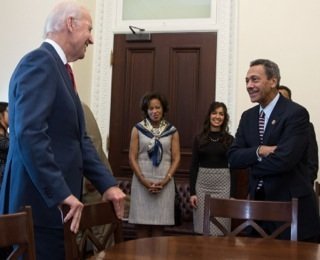 Former North Carolina Rep. Melvin L. Watt was sworn in Monday as director of the Federal Housing Finance Agency, nearly a year after President Obama nominated him for the post.
Vice President Joe Biden officiated a ceremonial swearing-in at the White House on Monday. Watt was officially sworn in earlier in the day.
The U.S. Senate confirmed Watt's nomination in December, seven months after Obama nominated him to head the agency charged with overseeing and regulating mortgage finance conglomerates Fannie Mae and Freddie Mac.
Senate Republicans railed against the nomination, arguing that the job required far more technical knowledge than a politician such as Watt could provide, especially as the housing market struggles to recover from the 2008 subprime mortgage crisis that crippled the nation's economy.
Watt, 68, who has served on the House Financial Services Committee for the past two decades, will vacate his congressional seat to take the position. A special election will be held in November to fill the seat.