D.C. Region in Throes of Crippling Cold
Temperatures to Drop Again as Night Falls
WI Web Staff | 1/7/2014, 4:45 p.m.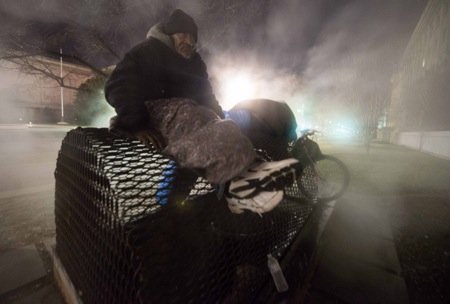 Don't be fooled by the sunshine — it's cold out there, and it's dangerous.
The polar vortex that's gripped much of the country in a bone-chilling freeze has settled over the D.C. region, as temperatures struggled to make it beyond single digits.
A wind chill warning has been in effect most of the day for much of the region, as unyielding wind gusts made it feel as cold as 20 degrees below zero. Several school districts and government organizations delayed opening or closed altogether.
As the night approaches, temperatures will again plummet, with lows between 7 and 15 degrees. A slight reprieve will come Wednesday as temperatures creep towards 30 degrees.
Pepco had as many as 2,000 reported outages early Tuesday, though that number was down to about 300 by late afternoon. Roughly 150 Dominion customers were without power, mostly in the Richmond and Northern Virginia areas. About 400 BGE customers were affected, though the number of outages was less than 50 by 5 p.m.
Local governments are making warming centers available to anyone who needs them.