Congressional Black Caucus Prepares 2014 Agenda
Poverty, Economy and Student Loans are Top Priorities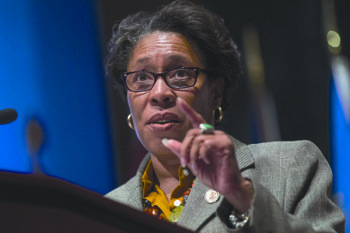 Early in 2013, when Republicans on Capitol Hill expressed outrage over the lack of public access to the White House, Congressional Black Caucus Chair Marcia Fudge said she had more pressing matters on her agenda.
"The millions who are the most vulnerable in the country are the ones taking a hit [because of government policies]," said Fudge (D-Ohio), who noted back in April that many Republicans were, "missing in action."
While the Congressional Black Caucus (CBC) continues to hammer out details of its 2014 agenda, a CBC spokesperson said it's a safe bet that poverty and the economy will again top the organization's to-do list this year.
Political watchers and constituents can also expect the CBC to ramp up its campaign to curtail the new criteria that makes it difficult for students at Historically Black Colleges and Universities (HBCUs) to qualify for the federal Parent PLUS Loans, which provides affordable financing to parents and guardians to cover educational expenses such as tuition, school supplies, and housing.
Until 2011, the Department of Education did not interpret the term "adverse credit history" in the Parent PLUS Loan eligibility criteria to include charge offs, medical collections and other credit issues.
Effective in 2012, while African-American families were disproportionately suffering from the impact of a faltering economy, officials applied a new and more restrictive interpretation of "adverse credit history," which disqualified many from receiving loans if they had outstanding medical bills or charge offs.
"Ensuring access to higher education is one of the CBC's top priorities. In this case, we are also fighting to enable students to remain in the school of their choice until they graduate," said Fudge, 61.
"The sustainability of the institutions that serve these students is critical to maintaining a high standard of education in this country and members of the CBC are committed to doing all we can to quickly undo the change made by this administration that has resulted in thousands of young people being unable to pursue their education."

Fudge said the issue must now be addressed and the policy must be fixed immediately.
William R. Harvey, the president of Hampton University and the chair of the President's Board of Advisors on HBCUs, said not only were there new regulations imposed, but a typical courtesy notice and comment period on the changes failed to materialize.
"Clearly the students and the institutions were blindsided," said Harvey, 72, who also noted that the changes have resulted in 28,000 HBCU students not being able to fill the gap in resources needed to pay for college and a loss of at least $154 million in revenue to HBCUs.
"The solution to this problem is quite simple, the Department of Education should immediately return to the pre-2011 interpretation of 'adverse credit history,'" Harvey said.
Meanwhile, the 43-member CBC plans to release its agenda for 2014 by mid-January and representatives are expected to continue to press the Obama administration on poverty and the economy.
As the nation continues to recover from the Great Recession, African Americans and other minority communities are still struggling, Fudge said.
When the CBC released its 2013 agenda, officials said 27 percent of blacks – or about 10 million African Americans – lived below the poverty line, or nearly three times the rate of whites.
The CBC's Economy and Poverty Priority Working Group has been tasked to identify the root causes of poverty and to provide policy solutions that may help break the insidious cycle that often leaves generations struggling to survive, Fudge said.
Rep. Barbara Lee (D-Calif.), Rep. Emanuel Cleaver (D-Mo.), and Rep. Joyce Beatty (D-Ill.) each sit as co-chairs on the CBC's Economy and Poverty Working Group.
"The CBC has traditionally been leaders in protecting initiatives that help lift and keep individuals and families out of poverty," Fudge said.
"Whether it is protecting the socioeconomic safety net programs, providing entrepreneur opportunities for small businesses or increasing access to education, CBC members continue to legislate and advocate for the most vulnerable in our country."