EDITORIAL: Politics in Season
1/8/2014, 3 p.m.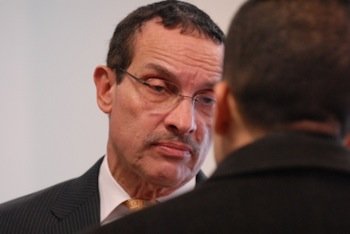 As the calendar turns to 2014, the level of political activity in the District will begin in earnest.
A slew of candidates, most who currently serve on the D.C. Council, are vying to become mayor. Mayor Vincent C. Gray is in the field and in some quarters, the sentiment is that the race is his to lose. That is if U.S. Attorney Ronald Machen doesn't drop the hammer and directly implicate Gray in a 2010 election scandal that has shadowed him throughout his first term.
Yet, if a recent candidates' forum at Eastern Senior High School is any indication, Gray will have to do much more than just show up. The mayor was roundly booed and many of the residents expressed their anger at the state of D.C. public schools and Gray's support of school reforms. As chairman of the Council, Gray opposed school reform as touted by his predecessor Adrian Fenty and Schools Chancellor Michelle Rhee but he has given current Chancellor Kaya Henderson tremendous leeway to implement changes as she sees fit.
Parents feel left out of substantive discussions about the direction the school system is taking; they say they've been marginalized by the top-down process of decision-making; and debates rage about the quality of education our children are receiving, the disparities evident in well-off versus disadvantaged communities and the effectiveness and efficiency of public charter schools.
There are any number of issues and concerns residents have such as unemployment, high taxes and fees, the lack of affordable housing, the effects of gentrification on long-time Washington residents and people of color, lingering concerns about the perception of corruption in local politics and much more.
As is customary in these types of contests, those seeking office try to be all things to all people, making lavish promises, promising to topple the status quo and end business as usual, and often promptly ignoring or discarding those promises once they've secured a coveted seat at the proverbial table.
An informed electorate is an effective counter-balance to glib, fast-talking politicians. Those who do their homework, familiarize themselves with the issues and who are intent on making politicians accountable help to make the electoral process work.
It is clear that significant segments of D.C. residents are disgruntled and deeply frustrated with those operating the levers of power. They don't like cronyism or pay-to-play. People want council members who aren't beholden to lobbyists and others holding the purse strings. They want elected leaders who care, who are responsive and who go the extra mile to take care of the needs of all residents, rich and poor, black, white or other.
On April 1, District voters will make their voices heard in a primary that will determine who will be the new mayor, council chairman, At-Large council member and also who will represent Wards 1, 3, 5 and 6. There is a lot at stake, particularly as the complexion of the city changes, as working and middle-class residents are squeezed by soaring rents, ultra-expensive houses and taxes and fees that nibble away at people's take-home pay. The council has responded in part by passing legislation to increase the minimum wage.
Money greases the wheels of politics and those with the most cash have leaders' attention. It's never too late for those outside the monied class to coalesce around important issues. There's power in numbers and residents must set aside differences and form coalitions and alliances with those of like mind and similar goals. That is one sure way to effect change people desire.
So as residents listen to speeches and talking points, they would be wise to look beyond the messenger and the message to discern if candidates truly represent their interests and needs.