Guidelines Offered to Combat Disparities in Student Discipline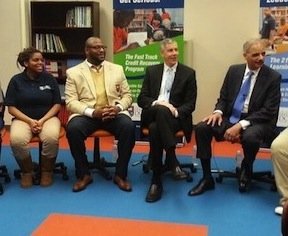 The Obama administration on Wednesday issued comprehensive new recommendations on school discipline aimed at combatting racial bias in punishments for students.
The recommendations, issued jointly by the Department of Education and the Justice Department, also encourage school officials to ensure that all faculty and staff are trained in classroom management, conflict resolution and approaches for gaining control of classroom disruptions.
Attorney General Eric Holder said zero-tolerance approaches are well-intended but often lead many minority students to the court system.
"Ordinary troublemaking can sometimes provoke responses that are overly severe, including out of school suspensions, expulsions and even referral to law enforcement," Holder said in a statement. "And then you end up with kids that end up in police precincts instead of the principal's office."
Reports have consistently shown glaring disparities in how black and Latino students are punished in comparison to whites. For example, government civil rights data from 2011-2012 found that black students were more than three times as likely as whites to be expelled or suspended.
Civil rights activists have long maintained that the so-called "school-to-prison" pipeline has been a direct result of the overly zealous zero-tolerance mandates that were launched more than two decades ago. In targeting black and Latino students, the policies often set them on a path toward truancy and becoming criminals, detractors claim.
A letter sent to schools from the justice and education departments states the federal investigation found cases where African-American students were disciplined more harshly and more frequently than their white counterparts.
"In short, racial discrimination in school discipline is a real problem," the letter reads.
Holder and Secretary of Education Arne Duncan appeared Tuesday on the Rev. Al Sharpton's radio show, where they talked about the disparities in student punishment.