Maysa Celebrates Her First Grammy Nomination
Baltimore Native to be Honored at the Birchmere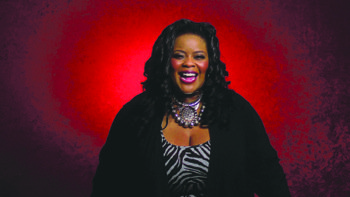 It took 22 years.
After a career that's spanned nearly a quarter of a century in which she stands as one of the elite voices in music, Maysa Leak has never been nominated for a Grammy Award.
Until now.
The Baltimore native, who's shared a microphone with such superstars as Stevie Wonder, Chaka Khan, and Angela Bofill, said she can hardly contain the joy she feels after receiving news of her very first nomination in the category of, "Best Traditional R&B Performance," for her song, "Quiet Fire," a single off of her latest CD, "Blue Velvet Soul."
"It's something that I prayed for," said Leak, whose best known in the music industry and much of the world simply as Maysa.
"Receiving a Grammy nomination for the first time in my 22 year career is incredible and means the world to me, but to get it for a song from my 10th solo CD, 'Blue Velvet Soul,' is even more significant," said Maysa, 47.
With Jazz and R&B hits such as, "Don't Get Any Better," "I Can't Help It," and, "Am I Wrong," Maysa said her latest CD counts as her most personal.
"I struggled to make this record so soon after the death of my mother, Laura Leak," she said.
"I truly poured my heart and soul into this record, so this is a great milestone not only in my career, but my life as well. I have been dreaming of and praying for a nomination since I was a little girl. I'm so grateful."
The timing of the news for the nomination also couldn't have been better.
The singer received a telephone call from Wendi Cherry, the executive director of the Recording Academy's Washington, D.C. Chapter, during a celebration Maysa hosted to honor her son's 14th birthday.
"I couldn't believe it, I started screaming and crying and the kids were asking me what was wrong," Maysa said. "I told them that nothing was wrong and that I just got nominated for a Grammy and they started screaming too."
Friends and fans of the single mother and singer said they too were overjoyed about the Grammy nomination.
"You tire of hearing about the bigger names always pulling in nominations and one reason they do is probably because of ratings," said Damon Singleton, a disc jockey in Lanham, Md.
"Maysa has been singing for a long time and at a very high level. There really aren't many singers out there who can carry a tune like her," said Singleton, 44.
By the time Maysa turned six years old, she said she knew she wanted to be a singer, mostly because another famous songstress unknowingly influenced her.
"I was six years old when my mom took me to see [the stage play], 'Purlie.' When Melba Moore, who starred in the play, came on stage and sang her heart out, I knew at that moment I wanted to make people feel the way she made me feel," Maysa said.
While a student at Morgan State University, Maysa met the legendary Stevie Wonder after one of her classes and, after graduating with a degree in classical performance, she moved to Los Angeles to join Wonder's background group, "Wonderlove," with whom she performed on the, "Jungle Fever," movie soundtrack and on such television shows as, "Oprah," and, "The Tonight Show."