Md. Gov. O'Malley Eyes Minimum Wage Increase
1/8/2014, 3:50 p.m.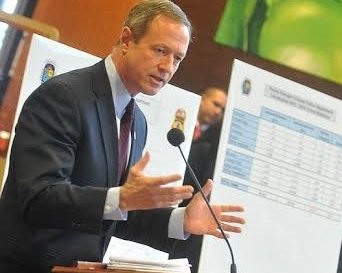 Maryland Gov. Martin O'Malley (D) has renewed his push to raise the state's minimum wage.
As state lawmakers head to Annapolis this week to start the 2014 legislative year, O'Malley said he would seek an increase in the state's minimum wage, currently set at $7.25 per hour.
"There's still many families in Maryland who have not come through those hard times," O'Malley said at a state luncheon, according to news reports.
A push to raise the national minimum wage, also set at $7.25 an hour, has been gaining momentum. Locally, jurisdictions have formed coalitions to address low wages.
In November, the Prince George's County Council unanimously approved legislation to bump the wage to $11.50 by 2017. The law mirrored similar legislation in Montgomery County and the District to phase in gradual hikes to current wages by more than a dollar a year in the next four years.
Though Maryland has the nation's highest median household income, according the U.S. Census Bureau, the District and 21 other states have higher state minimum wages.
For more Prince George's County/Maryland news, follow @JoshuaGarnerDC on Twitter.