Northwest Health Advocate Presses Flu Vaccine
Ray Bridgewater Stresses the Importance of Receiving Vaccination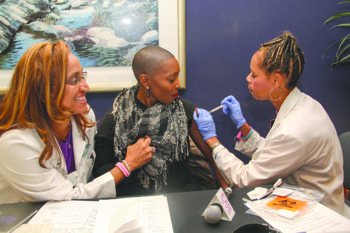 It only takes 10 seconds and the subtle stick of a small needle and most of the myths surrounding the flu shot immediately disappear.
"Once people realize that the needle isn't some cartoon-like long needle and it will hardly sting, perhaps they'll be more willing to get the vaccination," said Ray Bridgewater, president of the Assembly of Petworth, an organization located in Northwest that uses grassroots strategies to address critical health issues impacting African Americans, Latinos, and other ethnic groups suffering health disparities.
A native of Northwest, Bridgewater, 55, said convincing minorities to get the flu shot often prove challenging. He said African Americans in particular buy into legends or unfounded speculation about the vaccine.
"The biggest myth is that it will make you sick," Bridgewater said.
"What people don't understand is that the flu doesn't take effect immediately, it's a two-week process that builds up. So, some may already be sick when they get the shot. Then, there are those who argue that if they get the flu shot they'll get really sick. That's simply not true."
To help put to rest the many uncertainties surrounding the flu shot, Bridgewater joined with the D.C. Department of Health, the United Planning Organization and the National Coalition on Black Civic Participation in a campaign aimed at encouraging minorities to get the vaccine.
Last month, the coalition held free vaccination clinics at the United Planning Organization's "Petey" Greene Community Center in Southeast as part of their outreach effort.
The coalition also continues to spread the message that it's not too late to get the shot. "Flu season typically peaks in February and can last as late as May," said Dr. Anne Schuchat, an assistant surgeon general at the U.S. Public Health Service in Southwest and director of the Centers for Disease Control and Prevention's (CDC) National Center for Immunization and Respiratory Diseases in Atlanta, Ga.
"We are encouraging people who have not yet been vaccinated this season to get vaccinated now," said Schuchat, 54, the doctor whom Oscar-winning actress Kate Winslet consulted with and modeled her character after in the 2010 movie, "Contagion."
Bridgewater said the flu can mean a fever, cough, sore throat, runny or stuffy nose, muscle aches, fatigue, and miserable days spent in bed.
"There are a lot of people who are hospitalized because of the flu," said Bridgewater, who earned an honorable mention award in the Immunization Coalitions/Public Health/Community Campaign category during the 2013 National Adult and Influenza Immunization Summit in Atlanta.
Bridgewater also received recognition for his contributions toward increasing vaccination uptake in the Greater Washington, D.C., Metropolitan Area.
"It's just important to educate people about the flu and the vaccine," Bridgewater said. "The shot really works and we're becoming very successful in getting folks to get the shot here in Washington, Northern Virginia and Maryland."
Lydia Bell, an elementary school teacher who received a flu shot at her neighborhood Walgreens Pharmacy in Northwest, said the experience proved painless and worth it. "I got the shot in late October and I haven't been sick at all this year despite times when I've gone out of the house and found that I should have worn a heavier sweater," said Bell, 31. "I have many friends and family members who live by the flu shot, but, until this year, I also believed that the shot wouldn't work or it would just make me ill, so I didn't bother even though I've had the flu three times. Happily, I learned that it does work and it can be a protection."