Record-Low Temperatures Blanket D.C., Nation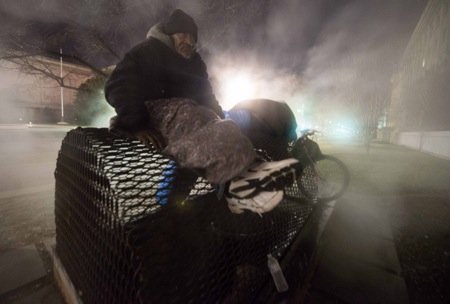 The District and its surrounding areas are still recovering from dangerously cold weather and record-setting low temperatures that led to school cancellations and delays as well as concerns for the safety of the homeless, seniors and anyone exposed to the frigid elements.
Icy conditions hampered the commute for those driving along the Beltway on Tuesday, Jan. 7, and thousands of flights were canceled or delayed in the wake of the Artic-like storm that weather officials dubbed a, "Polar vortex," which scientists define as a gigantic mass of swirling dense air that results in a deep freeze.
"The District [witnessed] temperatures that we haven't seen in years and such extreme cold can have deadly consequences for those who are exposed to it even for a short period of time," said D.C. Mayor Vincent Gray.
"Please be on the lookout for those who might be vulnerable and take advantage of the many resources the District offers to keep people safe and warm," said Gray, 71.
In addition to Washington's Hypothermia Hotline, which offers around-the-clock roving patrols and guaranteed shelter in extremely cold weather, officials at the United Planning Organization (UPO), which serves as the designated community action agency for the District with locations in Northwest and Southeast, said they are committed to helping the local homeless population to stay warm by handing out clothing to those living on the streets.
"We have Long Johns, and blankets," said Vincent Blackson, a UPO outreach worker who traveled the area with his team in vans seeking to assist those adversely affected by the frigid temperatures which the National Weather Service said reached a record low of three degrees with a wind chill of minus-16 at Baltimore-Washington Thurgood Marshall International Airport (BWI) just before 6 a.m., on Jan. 7.
In 1988, temperatures for Jan. 7 set a record at (BWI) when it registered a low of eight degrees.
Further, the thermometer at Dulles International Airport fell to three degrees before 9 a.m., on Jan. 7, breaking the previous record of eight degrees set in 1996.
The lowest temperature recorded for Jan. 7 at Reagan National Airport had been five degrees, a mark set in 1884. Weather officials said the temperature on Tuesday at Reagan National hit a high of seven degrees, but the accompanying wind chill made it feel as though it was minus-10 degrees.
Some of the coldest temperatures recorded in the region included minus-4 in Westminster, Md., minus-5 in Strasburg, Va., and 0 degrees in Chevy Chase circle where Maryland and D.C. connect.
Blackstone said UPO officials spent a large portion of time searching for the homeless and others in need under bridges, near Metro stations and at various locations throughout the area.
"Combined with gusty winds, these temperatures result in life-threatening wind chill values as low as 60 degrees below zero and, with weather that cold, hypothermia and frostbite could easily set in," said Bob Oravec, a meteorologist at the Weather Prediction Center in College Park, Md.
As a result, public schools in the District opened earlier on Tuesday while Prince George's County Public Schools, Alexandria City Public Schools and Arlington County Public Schools each opened with a two-hour delay.