Record-Low Temperatures Blanket D.C., Nation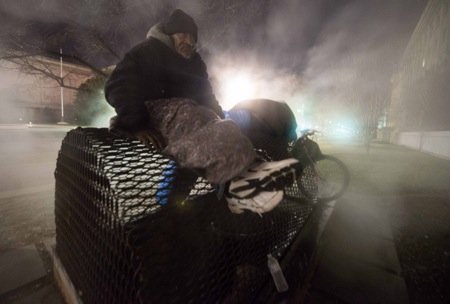 A host of other school districts closed because of the sub-freezing temperatures on Tuesday, including Fairfax County Public Schools, Loudoun County Public Schools, Prince William County Public Schools, Manassas City Public Schools, and Stafford County Public Schools.
The Greater Washington, D.C., Metro Area counted among the many locations around the United States to experience the unusually cold temperatures.
In the Midwest, forecasters said Chicago and Indianapolis felt temperatures as low as minus-12 degrees with a wind chill of minus-40.
In Minneapolis temperatures fell to minus-29 degrees with wind chills dipping to minus-50, while the coldest temperatures recorded during the week occurred in the towns of Babbitt and Embarrass, Minn., where the thermometer registered at -40 degrees.
"This probably isn't the smartest time to be outside, but I've got to make ends meet," said Victor Howard, a maintenance worker who lives in Springfield, Va. "I'm wrapped up in a ski coat, three sweaters, a scarf and three pairs of gloves and work boats but I still feel the cold," said Howard, 49.
Lynn Palmer, an administrative officer from Alexandria, Va., who works in the District, told ABC News that she commuted by bus and train on Tuesday but did so after bundling up in layers.
"I could barely walk [because of the cold weather]," Palmer said.
After about four hours working at a restaurant in Forrestville, Md., Shannon King said she realized that the weather conditions were too much to overcome even for her regular customers.
"There was nobody in the restaurant for almost the entire shift," said King, 22 of Forrestville. "We had more workers than customers and we only had three people on shift. It's too cold, case closed."
The National Weather Service does have encouraging news for the District.
Forecasters predict a cold start to Wednesday, Jan. 8 with morning temperatures hovering in the single digits. However, officials said the high temperatures for Wednesday and Thursday should reach above the freezing mark.

The weekend forecast calls for high temperatures of 60 degrees on Saturday, Jan. 11, and 59 degrees on Sunday, Jan. 12.
"I think I'll go sunbathing," said King, with a laugh. "Seriously, I don't think anyone wants to see these kinds of temperatures ever again."