'Tis the Season for Black Nonprofits to Suffer
Janell Ross, Special to the Informer from New America Media | 1/8/2014, 3 p.m.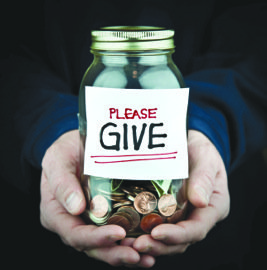 For Thembi Duncan, it seemed like the kind of opportunity best described as golden.
A popular Washington, D.C., radio talk show wanted Duncan - the new producing artistic director of the African Continuum Theatre Company - for an interview on the air. As recently as 2011, the African Continuum, once billed as D.C.'s only professional Black theater company, had a six-figure production budget. Then, leadership changes and a general malaise around donations hit. Production stopped. Now, Duncan is working to rebuild, and the radio show was needed visibility at a critical time of year for giving.
But some of the radio callers offered biting commentary. The African Continuum might break even, perhaps even turn a "profit," if it would move away from snooty plays written by long-dead African-American literary giants. Put a Tyler Perry play on the stage, a caller said. And a good show about a woman wronged or a man scorned and then saved by the blood of Jesus always sells tickets, several callers suggested.
"We are in a rather unusual position in the charitable world," Duncan told The Root. "Like every other nonprofit, we live and die by donations. But we are not an organization that feeds hungry children. So there are just some people [to] whom we don't make sense or seem like a priority. For others, they can't see why we don't simply focus on commercial goals, put on something mass market. But we contribute something very important to an underserved community, too."
For nearly every fundraiser, the holiday season is critical, a time when American generosity seems to surge. And, one little-known truth in a country where African Americans are frequently depicted and described exclusively as charity recipients and, worse still, "takers," Black Americans respond to the call for charity more often than others. But in Black America, the season for giving has also produced another little talked-about reality: Some causes suffer mightily.
Black philanthropic giving—much like white giving—remains overwhelmingly directed at churches. However, for many Black families, the giving often stops there. Secular Black institutions, including historically Black colleges and universities, museums and other nonprofits, are left struggling to survive.
In 2012, the W.K. Kellogg Foundation, a Michigan-based organization, released a study confirming that African Americans give larger shares of their income to charity than any other group. The report also found that a growing legion of identity-based foundations and giving circles such as the Associated Black Charities of Maryland together funnel about $400 million a year to a wide variety of organizations. It did not look at where these foundations are directing pooled contributions.
A 2005 study (pdf) did, noting that individual Black households are noticeably more generous in religious giving. The average Black household contributed $924 to a church or religious institution, the study found, compared to an average of about $814 donated by white households. But, Black families were a bit less generous in secular giving, donating an average of $439 to these organizations compared to the white-household average of $510.