'Tis the Season for Black Nonprofits to Suffer
Janell Ross, Special to the Informer from New America Media | 1/8/2014, 3 p.m.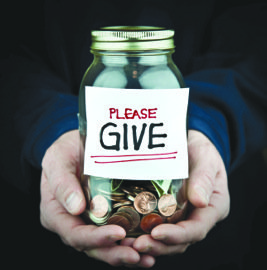 "Blacks have $1 trillion in buying power," said Marybeth Gasman, director of the Penn Center for Minority-Serving Institutions at the University of Pennsylvania. "... African Americans give more of their discretionary income to charity than any other racial or ethnic group in America. Why isn't more going to HBCUs, those institutions that birthed the Black middle class as we know it?"
Gasman's job has given her a deep understanding of where African Americans do spend their money. Gasman estimates that today, at least 60 percent of Black charitable dollars go to churches, but the other 40 percent is available and, she says, should be aggressively pursued by secular nonprofits and HBCUs.
When it comes to HBCUs, the impact of that pattern is stark, Gasman said. On average, about 20 percent of alumni from all the nation's colleges and universities contribute to their schools. That figure ranges from 5 percent to 7 percent at public HBCUs and 9 percent to 10 percent at private HBCUs.
Walter Kimbrough, president of the New Orleans-based HBCU Dillard University since 2012, has emerged as an outspoken voice calling on Black America to do a better job supporting HBCUs.
At first glance, he would seem an unlikely spokesman. Kimbrough thinks the financial troubles of HBCUs are often overstated and questions of relevancy are driven by deeper-seated suspicion and disdain for Black institutions.
Yes, some Black colleges and universities are in serious trouble (three have closed, and others have lost accreditation in recent years). Some schools need to make the hard decision to shut down, consolidate with another school or eliminate some majors, Kimbrough said. Yes, many need to specialize and invest in developing academic niches at which they excel. (Dillard, for example, produces the second largest number of Black undergraduates with physics degrees in the country.) And, yes, many need to improve alumni relations and invest in larger fundraising operations, he said.
But, HBCUs are educating and graduating larger-than-average shares of first-generation and low-income college students, something crucial to the country's future economic success, Kimbrough said. And with 103 HBCUs left around the country, HBCUs are closing at a far slower clip than women's colleges, while educating increasingly diverse student bodies (pdf).
Still, Kimbrough has been blunt about calling on Black America—über-wealthy entertainers and athletes and moderate- to modest-income individuals alike—to support the nation's HBCUs. And, as the son of a United Methodist Church minister, he rebuffs claims that Black America simply does not have the money to do so.
"It's not that Black people don't have the money or the habit of giving," said Kimbrough. "I do understand that there is an income gap, that we earn 75 cents on the dollar or something like that and have one-tenth of the wealth of whites. But charity does exist in Black America, and it begins and ends for a lot of people in the church."
Kimbrough, like Gasman, thinks that HBCUs and churches may need to work closely together to encourage a concept first described by the Urban League's Marc Morial: civic tithing. Frank and direct fundraising appeals for HBCUs need to happen in pulpits. Religious institutions need to commit to funding student scholarships at HBCUs. People in the pews also need to begin to give to secular and not overtly religious Black-serving nonprofits, which are fighting to educate students, and provide and boost social justice or civil rights, with the same regularity that they do their churches, he said.