COMMENTARY: Eighth Time's a Charm? Gruden Latest in Long Line of Redskins Coaches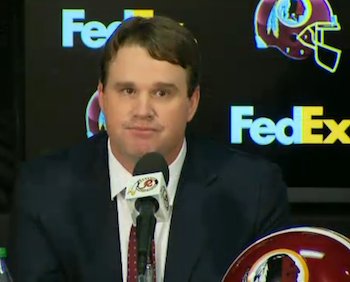 It came as no surprise when the Washington Redskins relieved head coach Mike Shanahan of his duties. After a tumultuous 3-13 season, owner Dan Snyder was left with little choice.
But, of course, the blame shouldn't rest solely on Shanahan. There are several players and coaches who played a significant role in the Redskins finishing with the second-worst record in football.
The brain trust of the Redskins organization is plenty culpable, too, and their choice for Shanny's replacement will likely be the biggest factor in whether the team returns to prominence or continues to unravel. After scouring a fairly extensive list of candidates, they decided Thursday to hand the keys to Cincinnati Bengals offensive coordinator Jay Gruden.
The hire is is somewhat puzzling, but also refreshing. Gruden has no previous head coaching experience, but comes with a solid family pedigree (he's the brother of Super Bowl-winning coach Jon Gruden) and a rep for grooming Andy Dalton into a Pro Bowl quarterback in Cincinnati.
But he won't be given a pass for his experience, or lack thereof. There's no adjustment period in this town. Gruden must have a successful first season, i.e., more wins than losses. Anything short of that and the fan base will quickly become frustrated and impatient. Quite frankly, we don't like losing around here.
Gruden will be helped by the return of a healthy Robert Griffin III. By the time training camp begins, RG3 will have had about seven months off. He should be fully rested and physically ready to return to the Pro Bowl form he displayed in 2012.
More importantly, Griffin will be out from under the cloud of the Shanahan saga. The fresh start and opportunity for redemption after a rough sophomore season should make for a motivated and focused Griffin, which can only benefit Gruden.
The coach will also be aided by a solid backup quarterback in Kirk Cousins (that's right, backup — no quarterback controversy in the nation's capital).
The hire was certainly good pertaining to Gruden's demeanor. The Redskins needed to choose a coach like him, one that is calm and cerebral. More poise coupled with solid game planning. Less yelling, hand-clapping and rah-rah. The Redskins have more than enough players who'll bring emotion to the team. Guys like Pierre Garcon, Brian Orakpo and DeAngelo Hall provide more than enough fire.
Gruden should invest more offensive plays in the read option. In 2012, RG3 ran it to perfection. Some believe that NFL defenses have caught up with the read-option offense, but I say run it until they stop it. The offense has had so much success with the offense that I'd give the league a heavy dose of it once Griffin is healthy.
Fortunately Gruden will also inherit some good offensive weapons. Running back Alfred Morris finished fourth in the league in rushing yardage this season and is regarded as one of the best all-purpose backs in the league. Garcon is a deep threat who's also not afraid to make the tough reception over the middle. Additionally, talented tight end Jordan Reed will return from a groin injury.
On the other side of the ball, though, Gruden will have to be creative. Last season, the Redskins defense was in the bottom tier of the league and right now there's more questions than answers on how to fix things. Should they use the 4-3 defense, or the 3-4? Can they adequately replace the retiring London Fletcher? Will they re-sign two-time Pro Bowl linebacker Brian Orakpo, who is entering free agency? And what to do about the much-maligned special teams? Baptism by fire, indeed.
Snyder is now on his eighth — eighth! — head coach since purchasing the franchise in 1999. He had another legitimate opportunity to take a major step toward improving the quality of his team with this decision, and fans can yet again only hope he got it right this time. The Redskins have a lot of work to do to get things turned around, but the road to success begins with choosing the right team leader. Only time will tell if Gruden is the man.