Gruden Vows to Make Redskins 'Competitive' Again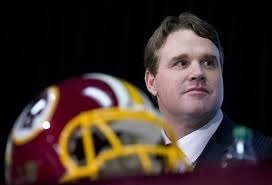 The Washington Redskins' brief search for a head coach ended Thursday as Cincinnati Bengals offensive coordinator Jay Gruden was named the successor to the fired Mike Shanahan.
Gruden, 46, who thanked his family and the Bengals organization for supporting his decision, said transitioning to Washington is a once-in-a-lifetime opportunity.
"I will do my best to make sure that I put a competitive football team on the field each and every day," he said during his introductory press conference Thursday. "Really, it's not about me — it's about the Washington Redskins, the fans, the workers at FedEx Field, the players and the coaches, and the commitment to a consistently great franchise."
The Redskins fired Shanahan on Dec. 30, ending his four-year run with the team after a controversy-filled 3-13 season.
Despite leading the team to a division championship in 2012, Shanahan's final campaign was marked by a dispute with star quarterback Robert Griffin III over playing time, culminating with Shanahan benching Griffin for the last three games of the season.
Asked how Griffin affected his decision to accept his new post, Gruden responded, "Robert's a great quarterback and it's very exciting. Any time you want to move forward with a franchise, that's a very important position, as we well know. He's a great player and I look forward to the chance of coaching him."
Redskins general manager Bruce Allen, who interviewed six candidates before signing Gruden to a five-year deal, said it was about finding the right person to rebuild team chemistry after a season of dysfunction.
"We needed someone who would be a good teammate to the coaches, the organization and the players in the locker room, and through this search, we kept looking for that leader and teacher," Allen said.