Alumni Giving Key to HBCU Survival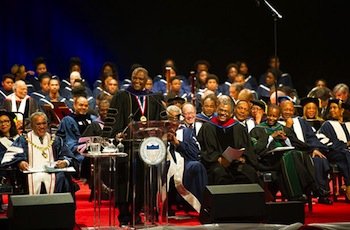 Historically black colleges and universities across the country are feeling the impact of waning government support, as some struggle with funding cuts that have exceeded 50 percent.
In focusing on solutions to offset the schools' reduced federal and state contributions — and in many cases, decreased gifts from alumni — the root.com reports that college officials are working with banks such as Wells Fargo to help students and staff obtain scholarships.
"Dorms have fallen into serious disrepair. Classrooms are in need of updating, and academic programs have suffered," Johnny Taylor, president and CEO of the Thurgood Marshall College Fund, told theroot.com. "Some schools have had to reduce faculty and staff. To be blunt, it's the result of years and years of financial neglect. Some of these schools are in need of a major infusion of cash."
Taylor points out the importance of alumni giving, which at most HBCUs now averages less than 2 percent of funding. He said one of the main reasons St. Paul's College in Lawrenceville, Va., closed its doors last year after 125 years was that school officials failed to raise an estimated $250,000 needed to keep it afloat.
A November 2012 report from the Association of Governing Boards of Universities and Colleges stated that HBCU presidents need to insist that their institutions fully engage alumni giving.
"If HBCUs don't tap into [African-Americans'] buying power and potential for giving, someone else will and HBCUs will lose out," the report stated. "Alumni giving is key to sustainability at HBCUs and must be a focus on the part of presidents, boards, and institutions."
Taylor said that with about two million living HBCU graduates, alumni remain an untapped source of revenue that possibly could have saved schools such as St. Paul's and Morris Brown College in Atlanta, which faced foreclosure prior to closing in 2012.
Ron Busby, president of the U.S. Black Chamber and an HBCU alumnus, said recently that larger schools such as Howard University, Tuskegee Institute and Texas Southern University are poised for cuts for as much as 36 percent in special programs and grants for students.
"These cuts, which will have such a huge impact on African American education, are going to hinder the advancement and growth of businesses owned by African Americans," said Busby, who urged concerned citizens to implore their state lawmakers to refrain from critical cuts in education funding. "Without the benefit of higher education, the strength of leadership within the African-American community is going to wane."
Prince George's County Executive Rushern L. Baker III, a graduate of Howard University, emphasized alumni giving during delivery of the school's convocation address in September.
"We must roll up our sleeves and get involved," Baker said. "Howard University has been, and will continue to be, a beacon of light that sets the example for the nation and the world."