Howard U. Board of Trustees Announces Presidential Search Committee
Vernon Jordan to Chair Search for 17th President
1/13/2014, 12:01 p.m.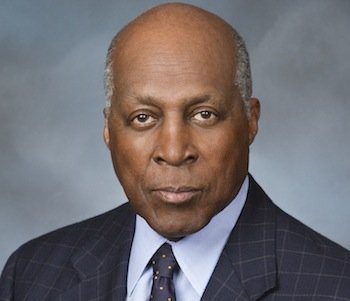 The Howard University board of trustees announced Monday the appointment of a presidential search committee that will play an active role in the selection of the university's 17th president.
Trustee Vernon E. Jordan, Jr., Esq., was appointed chair.
"A deliberative search process offers an important opportunity to understand and clarify the priorities and challenges of the University, to unify key stakeholders, and to plan the future course," said board Chairman Addison Barry Rand. "The selection of the 17th president of Howard University is the most important task the board of trustees has before it."
The committee will develop, in consultation with the board, an inclusive and transparent search process. The committee is charged with recommending to the board candidates who are best qualified to lead Howard University.
"For nearly 150 years, Howard has been at the forefront of producing the world's leading scholars, researchers and architects of social justice," Jordan said. "I am honored to chair the search to identify the most qualified person to lead this prestigious University."
Mr. Jordan has served on the university's board of trustees since 1993. He is a senior managing director of Lazard Freres & Co. LLC in New York and senior counsel in the law firm of Akin Gump Strauss Hauer & Feld LLP in D.C. He earned a B.A. degree from DePauw University and a J.D. degree from Howard University School of Law.
Mr. Jordan, who was chairman of the Clinton Presidential Transition Team, is the former president of the National Urban League and former executive director of the United Negro College Fund.
The other members of the search committee include:
Benaree P. Wiley, Alumna, Trustee, Principal of The Wiley Group, and Chair, Board 2014 Transition Committee
Kelechi C. Anyanwu, President of the Graduate Student Assembly and Third-Year Doctoral Student in the Counseling Psychology Program
Edward E. Cornwell III, M.D., F.A.C.S., F.C.C.M, Alumnus, Surgeon-in-Chief/Professor and Chairman of Surgery, Howard University Hospital
Lorraine N. Fleming, Ph.D., P.E., Alumna, Chair, Interim Dean, College of Engineering, Architecture and Computer Sciences, 2015 Middle States Accreditation Periodic Review, Chair, 1999 Middle States Accreditation Self-Study Taskforce
Leslie Hale, Alumna, Trustee, Executive Vice President, Chief Financial Officer and Treasurer of RLJ Lodging Trust (RLJ)
The Honorable Kamala D. Harris, Alumna, Attorney General of the State of California
Marian Johnson-Thompson, Ph.D., Alumna, Trustee, Professor Emerita of Biology, University of the District of Columbia (UDC)
Robert L. Lumpkins, Trustee, Chairman of the Board of The Mosaic Company, and retired Vice Chairman of Cargill Incorporated
Mark A. L. Mason, Alumnus, Trustee, Chief Executive Officer of Citi Private Bank
The Honorable Danette G. Howard, Alumna, Secretary of Higher Education, State of Maryland
Stacey J. Mobley, Esq., Alumnus, Trustee, Senior Counsel, Dickstein Shapiro, LLP Dominique C. Perkins, Vice President, Howard University Student Association
James K. Pleasant, Director, Mechanical, Engineering and Plumbing Services, Physical Facilities Management, Howard University
The Honorable M. Kasim Reed, Alumnus, Trustee, Mayor of the City of Atlanta
Frank Savage, Alumnus, Chief Executive Officer of Savage Holdings LLC and Chairman Emeritus, Howard University Board of Trustees
Dana A. Williams, Ph.D., Alumna, Chair of the English Department, Howard University
Undergraduate Faculty Senate Representative (Pending appointment by the Faculty Senate)
Graduate Faculty Senate Representative (Pending appointment by the Faculty Senate)