Tobacco Firms' Proposal to Justice Dept. Leaves Black Media Out of Required Ad Buys
Target Market News | 1/13/2014, midnight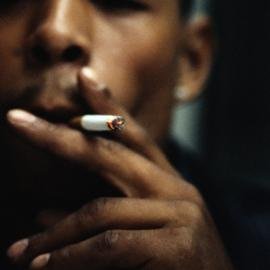 On Friday, Jan. 10, the U.S. District Court in Washington, D.C. announced an agreement reached with the nation's tobacco companies that requires that the firms place millions of dollars in advertising in major media outlets to say they lied about the dangers of smoking.
The proposed agreement requires that each of the tobacco companies publish full-page ads in the Sunday editions of 35 newspapers and on those newspapers' websites, as well as air prime-time TV spots on CBS, ABC or NBC five times per week for a year.
Despite research that showed tobacco companies targeted African-Americans -- especially young blacks -- with promotions and ad campaigns with black magazines, newspapers, websites and radio stations, the proposal given to the court does not require that the "corrective statements" ads be placed with any of those outlets.
The agreement filed in U.S. District Court is the latest development following a 2012 ruling ordering the tobacco industry to pay for corrective statements through advertisements. The companies involved in the case include Richmond, Va.-based Altria Group Inc., owner of the biggest U.S. tobacco company, Philip Morris USA; No. 2 cigarette maker, R.J. Reynolds Tobacco Co., owned by Winston-Salem, N.C.-based Reynolds American Inc.; and No. 3 cigarette maker Lorillard Inc., based in Greensboro, N.C.
The agreement must still be approved by U.S. District Judge Gladys Kessler before going forward. The ads will not begin appearing until the tobacco companies have exhausted the appeals process.
Numerous research studies, including a report from the Centers for Disease Control, found that tobacco companies disproportionately placed cigarette ads in Ebony, Jet, Essence, Black Enterprise and other black magazines when compared to insertions in publications such as Time and People magazines.
One particular brand, Newport, gained market success with this strategy. The CDC found that Newport was the most preferred brand of menthol cigarette with 79 percent of black high-school student.
The Newspapers on the list to receive ad placements:
Atlanta Journal-Constitution
Boston Globe
Boston Herald
Charlotte Observer
Chicago Sun Times
Chicago Tribune
Dallas Morning News
Florida Times Union
Fresno Bee
Ft. Worth Star-Telegram
Houston Chronicle
Los Angleles Times
Miami Herald
New York Daily News
New York Post
New York Sun
New York Times
Orlando Sentinel
Palm Beach Post
Philadelphia Inquirer
Richmond Times-Dispatch
Sacramento Bee
San Diego Union-Tribune
San Francisco Chronicle
St. Petersburg Times
Tallahassee Democrat
USA Today
Wall Street Journal
Washington Post
LA Eastern Group Publications
San Francisco La Oferta Review/El Vistaz-Combo
NAHP
Chicago Lawndale Group News
NAHP
Houston – Que Onda!