FAMU Chooses Cornell U. Official as New President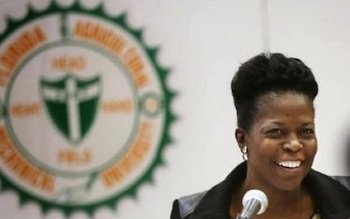 Officials at Florida A&M University recently announced the selection of Elmira Mangum as the school's first female president.
Mangum, a vice president for budget and planning at Cornell University in upstate New York, was selected Jan. 9 to helm Florida's only public black university. She said her priority lies in preserving FAMU's integrity as one of the country's oldest historically black colleges and universities.
"It's so important that [coming in] we build upon what they've started at FAMU, which includes an excellent scholarship program, [as] all the headlines seem to have highlighted the negative things about the institution," Mangum said. "Florida A&M has a very good academic program and we want to make sure that our students know that."
The school has been led by an interim chief administrator since making national headlines in 2011 with the hazing death of drum major Robert Champion. The school's famed marching band was subsequently suspended and university president James Ammons resigned.
Mangum will be the first non-alumnus in more than 40 years to hold the position.
"She gets it," Torey Alston, one of the FAMU board members who chose Mangum in a 10-2 vote, told the Miami Herald. "She is competent. She is strong. Change is tough. But I absolutely stand with Dr. Mangum and I encourage my colleagues to do the same."
Mangum, who attended North Carolina Central University, has two master's degrees from the University of Wisconsin-Madison, and received a doctorate in educational leadership and policy from the University at Buffalo.
She said in an interview with News One journalist Roland Martin that she was interested in FAMU because of its mission, history and the students it serves.
"The institution is not defined by an incident, but by the collective performance of our faculty and students" she said. "I think that because some people say that I'm an outsider, I can actually step back and take an objective view and see the value across the institution."