Md. Leaders Call for Increased School Funding
Joshua Garner | 1/14/2014, 12:24 p.m. | Updated on 1/22/2014, 3 p.m.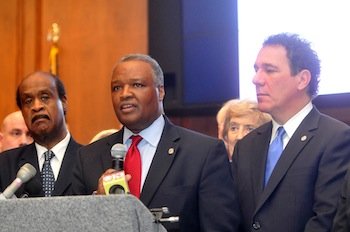 The county executives of Maryland's largest counties are calling on state officials to allocate more funding to their school districts for construction and modernization.
During a press conference in Annapolis on Jan. 14, the executives for Prince George's, Montgomery, and Baltimore counties announced a joint effort to work on legislation aimed at modernizing state schools in their jurisdictions.
"We believe that the state needs to take a serious look at ensuring that all students have the best facilities and classrooms as we prepare them for the 21st century," said Prince George's County Executive Rushern L. Baker III (D). "With our growing populations and aging buildings, it makes sense for the state to focus on such a significant percentage of Maryland's student population, a population that also makes up a large percentage of our most needy children and families." 
Backed by their state legislators, Baker, Montgomery County Executive Isiah Leggett (D), and Baltimore County Executive Kevin Kamenetz (D) stressed the essentials of funding to meet the growing need for more classrooms and better facilities in their counties.
For the current school year, public schools in Maryland have a student enrollment of more than 836,000. And leaders from the state's largest counties said that their populations make up 44 percent of the enrollment and 46 percent of the students that participate in the state's Free and Reduced Price Meals program.
Baker said that 81 percent of schools in Prince George's County are at least 30 years old and most of them are in communities with the greatest need.
County leaders said that the need for their jurisdictions to modernize and increase construction will only grow as the student population continues to rise. By 2021, the student population in the three counties is expected to grow by more than 51,000.
Still, Leggett said despite Montgomery County allocating more resources for schools, his county struggles to keep up adding that student enrollment in the county will grow by 25,000 over the next 12 years.
"In Montgomery County, our school system has grown by about 2,000 students a year over the past several years," he said. "We three county executives have a very simple message: Our kids and families can't afford for any of us to play catch-up."
But it still remains unclear where the additional funding would come from for county schools. In Maryland, school districts receive the majority of their annual budgets from their local counties, with the remainder coming from the state, and a small percentage coming from the federal level. Maryland spends upwards of $13 billion annually on education, according to the Maryland Department of Education. According to the most recent data available, more than $900 million is spent toward school construction and of that figure Prince George's, Montgomery, and Baltimore counties were allocated more than $430 million as of the 2010-2011 school year.
Need and student enrollment often determines what is allocated to school districts from the state level, according to the Maryland Department of Education.
Allocating more funding to the three largest counties could mean fewer resources for Maryland's other school districts. But officials said details of the legislation the executives pledged to work on are still being formed.
"The county executives are still working with their legislative partners to determine the best mechanism to address the pressing school construction needs of these three jurisdictions," said Scott Peterson, a spokesman for Baker. "The three jurisdictions recognize that all school systems around the state have school construction and repair needs and responsibilities and it is not the intent to disrupt those efforts by diverting state dollars away from other jurisdictions. Rather we are looking for ways that the more abundant and pressing needs in our three jurisdictions can be addressed."
But the hope of more resources for modernizing county schools remains a priority for parents.
"We do have large aging infrastructures and people don't understand [it takes time to address those concerns]," said Earnest Moore, president of the Prince George's County PTA Council. "If you don't ask for [funding], you're not going to get it."
For more Prince George's County/Maryland news, follow @JoshuaGarnerDC on Twitter.