African-American Heritage Tour Visits Alexandria
Fourth Annual Event to Explore City's Historic Black Sites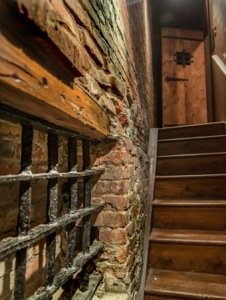 "We've had black people over the years contribute to the economic growth of this city and there have also been a lot of bricklayers who helped build the properties we have today," Euille said.
Excitement about the heritage tour continues to grow because it comes during a year in which the city plans to celebrate the 75th anniversary of the famous 1939 Sit-in, said Audrey Davis, acting director of the Alexandria Black History Museum.
The Sit-in took place on August 21 at the Queen Street Library.
Organized by attorney Samuel Tucker, the event helped to usher in the very early days of the Civil Rights movement.
"People should go on this tour," Davis said.
"It's a wonderful opportunity to network with people who are involved in preserving history. It's fun and educational, the cost is reasonable and it's a great way to spend a Saturday."
Barnes said the tour has already exceeded her expectations in many ways.
An average of more than 200 people attends each year, including generations of family members.
She said when the tours first began, she held out hope that many would be interested enough in African American history and culture to brave February's wintry weather to hop aboard and visit the historic sites and network with others.
"It's been great to realize all of the things people already know, but it's greater to be told, 'thank you,' for sharing with them many more significant information that they didn't know, such as Frederick Douglass managed the Freedom Bank which was located directly across the street from the White House," Barnes said.
"Or, sharing that nearly 100 years after the Lincoln Statue was erected in Lincoln Park that it was turned around so that it faced the newly erected Mary McLeod Bethune statue, or that there is a historic school house built for Black children right off of Central Avenue in the historic black township of District Heights, Md., that is being staffed and maintained by members of the Delta Sigma Theta Sorority."
Tickets are $10 for adults and $5 for children. The tour, which is sponsored by the Alexandria Convention and Visitors Association, Industrial Bank, Pepco, Southwest Airlines, THEARC, D.C. Lottery, and Capital Entertainment Services, departs from THEARC, at 1901 Mississippi Avenue in Southeast. Registration starts at 8 a.m. and a continental breakfast and lunch are included. For more information, call 202-561-4100.