D.C. Political Roundup: Bennett-Fleming Seeks Seat on D.C. Council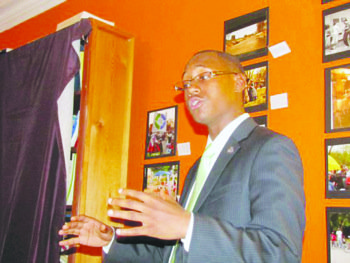 The District's shadow representative has decided that he can serve the city best in a paying gig, so he recently declared his candidacy for the Democratic Party nomination for one of the two at-large positions on the D.C. Council that's up for grabs this year.
Nate Bennett-Fleming, 29, and a resident of Ward 8, said that he's running to represent all District residents, including those living east of the Anacostia River.
"There is no at-large representation on the council that lives east of the river," he said. "We have some tough challenges in our backyard and I will be a strong advocate for Wards 7 and 8 and will address those challenges."
Bennett-Fleming won his 2012 election as the shadow representative and went to work to secure co-sponsors in the U.S. House of Representatives and the U.S. Senate for bills that would grant the District statehood. Bennett-Fleming said that his efforts, along with assistance from interns and activists, have paid off.
"There are currently 76 co-sponsors of D.C. statehood bills," he said. "We have 64 in the House including the majority of the members of the Congressional Black Caucus and in the Senate; we have the majority leader and two of Maryland's senators as co-sponsors."
Bennett-Fleming said that he will bring that same level of passion and urgency to the D.C. Council. He said he can serve the people better than incumbent D.C. Council member Anita Bonds (D-At Large).
"We have been in office the same amount of time and I have gotten more done than she has with limited resources and authority," he said. "I have gotten things done."
When in office, Bennett-Fleming said that he will work to improve the District's public education system by retaining good teachers, promoting STEM (Science, Technology, Engineering and Mathematics) for middle and feeder schools and using tests as a means of measuring academic progress.
He wants to stimulate economic development in Wards 7 and 8 by encouraging residents to become job creators.
"I want to promote entrepreneurship," he said. "This is especially a good route for our returning citizens who may not be able to get certain jobs because they have a felony. I will also work to set up a state-run venture capital fund that will help entrepreneurs get the money they need to start a business."
Bennett-Fleming said that his 14 years working in politics and public policy on the D.C. Council, for private law firms and on Capitol Hill, has prepared him to take on the sometime rough and tumble antics that occurs in the John A. Wilson Building in Northwest.
"I am prepared to be a legislator," he said. "I will be prepared from Day One to get results for the people."
Perry Praises District Budget Autonomy
The District's quest to become a state became closer to reality on New Year's Day when the new D.C. budget law that passed in April 2013 took effect.
The District, as of Jan.1, can now appropriate and spend local tax dollars without waiting for a federal D.C. spending bill to pass the U.S. Congress. Kimberly Perry, the executive director of DC Vote of Northwest, said that District residents are closer to becoming full American citizens.
"This is a milestone in our fight for self-determination that shows the power of the people still means something," said Perry, 42. "The new law changes an illogical budget arrangement with Congress that allowed partisan battles at the federal level to prevent the District from spending local tax revenues on critical needs. Our elected D.C. leaders and residents deserve credit for moving to rescind this unjust process."
The city can now spend its own money during federal government shutdowns to continue operating.
There has been no active legislative effort by the Republican-led U.S. House of Representatives to stop the budget autonomy measure. D.C. Del. Eleanor Holmes Norton (D) wants her colleagues to pass a bill granting budget autonomy without any congressional interference this year and she recently introduced legislation that would give the District power to enact its own laws without congressional approval.