Eldercare Experts Find Skype Can Beat Depression Better Than Meds
Veronica Zaragovia, Special to The Informer from New America Media | 1/15/2014, 3 p.m.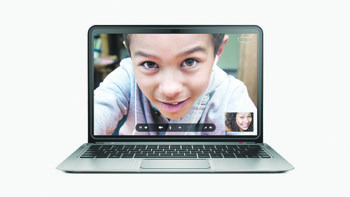 Almost 3 million people in Texas are between the ages of 65 and 85, according to the office of the state demographer. That number is expected to more than double by the year 2040. Texas – like the rest of the country – lacks enough geriatric mental health professionals to match the population. So experts are looking at alternatives to help seniors overcome depression that include one approach using technology.
Joe Bachicha, 80, gets food delivered to his home in Austin five days a week by a Meals-on-Wheels volunteer. Bachicha has three daughters, and he sees them often. But on weekdays, he's usually on his own at home.
"I just don't feel like going out. There's no place to go, really. I don't do very much except housework and yard work, and that's about it," he says.
Good Days and Rough Days
Bachich's wife, Margaret, died about eight months ago.
"Luckily we were able to keep her at home, so she died right here in the house," Bachicha says. "My two daughters were with me when she passed away, which was a big, big help."
Since then, he says he has good days. But there are as many rough days.
"When I'm feeling down usually what I do is take the dog for a long walk and that helps me. Helps me get out of my depression," Bachicha says.
Bachicha, unlike most men his age, did see a psychiatrist.
"When I went to see my primary care doctor, when it was time to see him, it was recently that I'd lost my wife. So I was feeling pretty bad. And I broke down there with my primary doctor and that's when he referred me to the psychiatrist," he says.
The psychiatrist offered medication, but Bachicha refused it. And he hasn't seen a psychiatrist since.
"I always confer with my daughters about it. I always let them know and they're very understanding," he says. "I feel more comfortable with my daughters than I do with a doctor."
Experts hope more seniors like Bachicha will find alternatives to medicine.
Professor Namkee Choi teaches at the University of Texas, School of Social Work. She's working on a project about problem-solving therapy for low-income older adults with depression.
"The anti-depressant medications are not that effective with low-income homebound older adults because medications don't treat psychosocial stressors," Choi says.
Psychosocial stressors include lack of transportation, financial concerns, dealing with many caregivers and also grappling with bereavement.
Non-Medication Approaches
"Since depression is so disabling as a condition, we have to think about having people do what we have them do with every other chronic condition," says Professor Nancy Wilson, who teaches at Baylor College of Medicine in Houston. "It's no different than diabetes or heart disease. There needs to be a therapeutic approach to their care."
Wilson is Choi's research partner.
"Older adults prefer non-medication approaches when they're available, and it's particularly sad when low-income older adults for whom medication isn't effective are given that as the treatment and not given the option to do something that would be their preference," Wilson says.