Eldercare Experts Find Skype Can Beat Depression Better Than Meds
Veronica Zaragovia, Special to The Informer from New America Media | 1/15/2014, 3 p.m.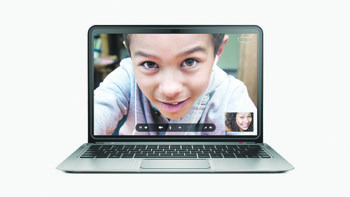 The seniors in their study got psychotherapy through a computer screen at home, using video conferencing technology like Skype.
In the beginning, some doubted the success of this method.
"They said older adults don't use technology and it's not gonna work," Choi recalls. "And when we were talking to our participants, most said I hope I'll get in-person sessions rather than tele-sessions."
At the end of the six-week study, some still disliked it. But 94 percent of the participants praised the experience.
"This was the best experience. And some people actually cried when they were talking about this actually changed my life and they were so proud," Choi says.
Choi and Wilson say they're focused on improving access to psychotherapy because it's hard for homebound seniors to get to a clinic.
"And also because of the shortage of geriatric mental health providers," Choi says. "There are not enough clinicians who can go around and do in-home, in-person sessions. So if we use tele-health delivery methods, we can serve more older adults with fewer clinicians. And it's cheaper."
Public health experts are paying attention to this as the Texas population continues to grow and age.
An Aging State
"If we think about aging in the state, and kind of look at the population, it's a phenomenon that's largely being driven by the non-Hispanic white population in the state," State Demographer Lloyd Potter says.
"When I say aging, it's really talking about the age structure of the population becoming older. So there are relatively fewer younger people," Potter notes.
Joe Bachicha says he tried to learn how to use a computer with little success. But he says his walks with his dog do a lot for him. Choi and Wilson hope more seniors will follow in his footsteps – being more active and talking about their depression.
Veronica Zaragovia wrote and broadcast this story through the MetLife Foundation's Journalists in Aging Fellows program, organized by The Gerontological Society of America and New America Media. Go to the KUT website to hear her public radio version.