Georgetown University Celebrates MLK with Dream Award
Academy of Hope Director to be Honored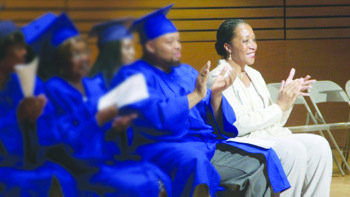 Lecester Johnson wasn't quite sure what to think when representatives of Georgetown University in Northwest informed her that she'd be this year's recipient of the John Thompson Jr. Legacy of a Dream Award.
Once she overcame the initial shock of the honor, Johnson, the executive director of the Academy of Hope in Northeast, said she realized the award provided her an opportunity to put the plight of adult literacy under a microscope.
"You do this work and you're not expecting any recognition and you never think that you're anywhere near where you want to be," said Johnson, 47.
"I'm excited because this will help put the lens on adults with low literacy in D.C., which is a huge issue but gets very little attention."
Founded in 1985, the Academy of Hope seeks to help provide an education to those most marginalized in Washington.
The academy provides basic education and adult literacy services to men and women, ages 18 and older and prepares individuals for the General Education Development test and transition into post-secondary education.
Named after its legendary men's basketball coach, Georgetown awards the John Thompson Jr. Legacy of a Dream Award each year to emerging local leaders in an effort to reinforce the school's commitment to engagement within D.C., officials said.
The award's purpose is also to identify talent among the city's most inspirational community leaders who are working to solve key issues that are responsible for shaping the city and the people who live in it.
"It's a privilege to recognize Lecester for her outstanding work," said Georgetown University President John J. DeGioia.
"She embodies the very spirit of service and she has a commitment toward social and economic injustice, which we seek to honor with this award and which defines our tradition here at Georgetown," said DeGioia, 56.
Georgetown officials plan to present Johnson with the award on Monday, Jan. 20, during the university's annual Martin Luther King Day celebration at the John F. Kennedy Center for the Performing Arts in Northwest.
Grammy Award winner Dionne Warwick will perform a musical tribute honoring the late civil rights leader with the Let Freedom Ring Choir led by Rev. Nolan Williams, Jr.
Warwick follows a long list of legendary performers, including Motown great Smokey Robinson, who performed at last year's award ceremonies, which honored Mary Brown and her Northeast-based organization, Life Pieces to Masterpieces, which provides disadvantaged African-American boys and young men with opportunities for self-expression through academic enrichment and art.
The 2014 award presentation will begin an intensive yearlong partnership between Georgetown University and the Academy of Hope, Johnson said.
"The expertise associated with Georgetown in the way of workforce development and policy alone could not only be a great benefit to Academy of Hope's work, but the issue of adult low literacy in general," Johnson said, citing a 2011 survey that found 64,000 individuals in D.C., did not have a high school diploma.
Georgetown officials said this year's activities will also shine a special spotlight on the iconic March on Washington for Jobs and Freedom.
Many in the District and around the nation marked the 50th anniversary of the famous march in August and Georgetown will continue to pay homage to the historical event with various performances and activities this year, including a "Teach the March" initiative this month through which a number of professors will incorporate the March on Washington into their classroom curricula.
"Martin Luther King and the civil rights movement was part of my every day life as a child and I remember how close my parents were to the movement. They never understood what I did, but if they were still alive to see me get this honor, they would," said Johnson, who also praised Thompson, the former Hoya coach who led the team to the National Championship in 1984.
"Coach Thompson wasn't just a coach, he was a mentor and he focused on life in general and was very much involved in the community," she said. "This is such a tremendous honor for me."