Giant Supermarket Ad Rankles Howard U. Students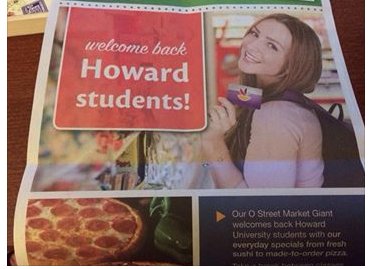 Officials for the Giant grocery chain have issued an apology to the Howard University community after using a stock photo in an ad that wasn't reflective of the university's traditionally African-American student body.
The ad was published a few days ago in a circular for the O Street Market store near the Howard campus in Northwest. In welcoming students back to school from their winter break, the ad depicted a young white female, which didn't sit well with many.
The social media backlash was swift, as people took to Twitter to share their disenchantment about the photo.
One user, Thomas Houston, tweeted that while he applauded Giant for reaching out to his alma mater, the idea "was a #marketingfail" on the part of the store's public relations team.
The outcry grew loud enough to warrant a response from the corporation.
"Unfortunately an incorrect stock photo was used in the ad and we apologize for this oversight," a spokesperson for Giant said via email. "We wish all Howard University students a successful semester."